.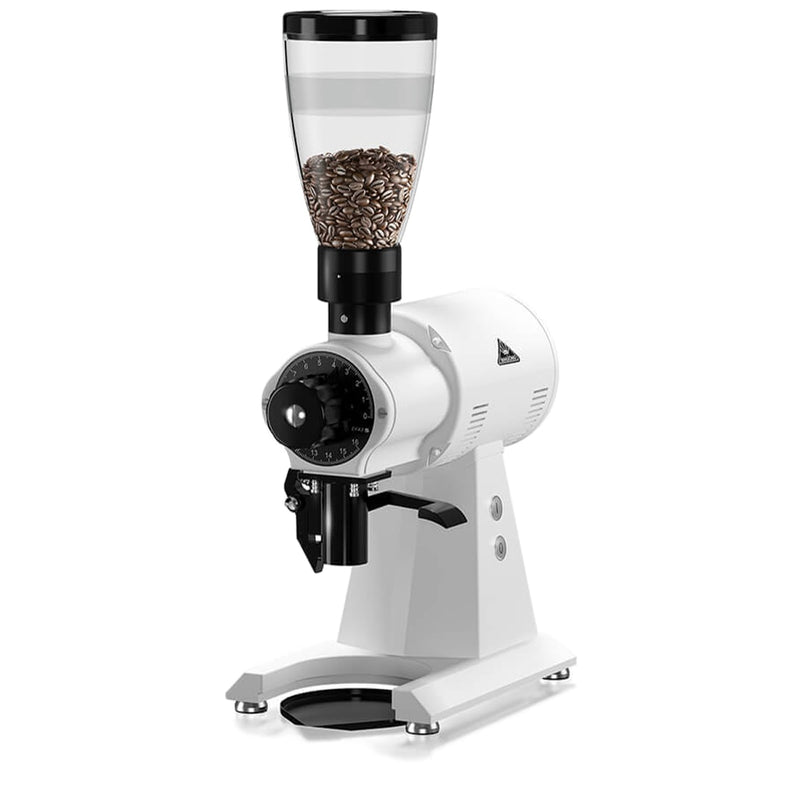 Mahlkonig EK43 S
Designed to be used for both espresso and pour over grinding in high volume locations, the EK 43S is the more compact version of Mahlkonig's famous EK 43 but still features massive 98mm vertical steel burrs and can grind up to 25/g per second with tremendous particle distribution. The EK 43S also provides a stepless adjustment wheel front and center on the grinder, allowing you to make infinitesimally small changes to your grind to find the perfect setting for any roast.
Included in Your Order:
FREE Shipping
FREE One-Year Warranty from Chris' Coffee ($99 Value)
Limited Edition ICON
The coffee industry admires the EK43 as a game-changer in grinding. Known for unlocking unrivaled uniformity and high-extraction potential without bitterness. The ICON is our tribute to the mighty EK43.
All the power and precision that made the Mahlkönig EK43 a global icon, now featuring an exclusive and unmistakable design that exists only for 999 EK43 S grinders. The symbol of quality with each numbered identity plate as a receipt of authenticity and a signal to savvy professionals and enthusiasts of your seriousness about exceptional coffee.
The ICON is built with golden accents on the dial knob, grind scale, grinder feet, on/off button, numbered plate, and Mahlkönig logo. Extra accessories include a 250g bean hopper in black and portafilter dosing cup.
Overview
Carrying on the legacy and quality of the already beloved EK43, the EK43 S is the space-saving little cousin that does not compromise on performance or grinding. The results of the Mahlkonig EK43 S are exceptional with this robust small grinder with high grinding capacity. Outstanding particle size distribution enhancing the coffee sweetness and reducing bitterness with high extraction rates are no different with the smaller EK43 S than the rest of the Mahlkonig coffee grinder lineup.
Versatility
Its ability to adapt to filter, espresso, fine Turkish coffee or other brew method grinding couldn't be more natural. With the new dial, also upgraded on the EK 43 grinder, you're able to adjust between 16 adjustments with even more settings available. To get even finer adjustments and closer to your espresso or filter coffee settings one can adjust the screw behind the dial.
Mahlkonig Burrs
As part of the HEMRO Group, Mahlkonig is under the umbrella of leaders in grinder innovations. Their combination of the most recent technologies and their traditional grinding expertise developed over decades holds their place as the king of grinders. The EK43 S gets its outstanding particle size distribution from the 97mm flat cast steel burrs in the burr chamber located directly behind the grind dial.
EK43 S Bean Hopper
The most relevant difference between the EK43 and EK 43 S is it's smaller space-saving corpus. With savings anywhere from five inches to twelve inches, your EK43 S is excellent for a lower volume commercial application or even for the prosumer. Depending on hopper size you'll get this reduction or addition in height without ever compromising functionality. The EK43s is compatible with all Mahlkonig bean hoppers: the 500g hopper, 800g hopper (included), and the 1500g hopper.
Mahlkonig Build Quality
As always Mahlkonig after decades of experience implements some minute changes that contribute immensely to build quality and the ease of which it is to find Mahlkonig parts. The sturdy stainless steel feet add stability to the EK43 S. It's hefty 63 lb gross weight further illustrates the quality and well-built feel of the newest in the Mahlkonig line-up. In response to more people moving towards on and off dosing Mahlkonig grinders, both the EK43 and the EK43 S have received stainless steel on and off button located on the right side of the grinder.
We fulfill orders Monday through Friday from our warehouse in Latham, NY. Orders may take anywhere from 1-3 business days to be fully processed and shipped out. We use USPS or UPS as our preferred carriers. Orders over $50 are eligible for FREE shipping within the contiguous U.S., and we reserve the right to select which carrier to use based on cost and speed in which the package will arrive to the final destination.
Orders over $250 will require a signature for delivery.
If however, you would like to waive this additional insurance,
please fill out the form here
and by doing so you agree to the terms and conditions contained within. Please save all packaging for any future reasons for shipping including returns, exchanges, and repairs. All exchanges & returns must be recieved within 30 days of the ship date. A return can be initiated by contacting a Chris' Coffee customer service representative
here
.
Commercial equipment & coffee are NOT eligible for returns or exchanges.
Read
Full Shipping Policies
&
Full Refund Policy Here
.
Please Note:
Chris' Coffee will not be responsible for any delivery delays due to unforeseen circumstances outside our reasonable control such as delays due to severe weather, natural disasters, strikes, etc.
For any questions or concerns please email
support@chriscoffee.com
| Dimensions | |
| --- | --- |
| Height | 26.8 in. |
| Width | 9.1 in. |
| Depth | 16.1 in. |
| Hopper Capacity | 800 g (stock) / 500 g (short) |
| Weight | 54 lbs. |
| | |
| Grinding | |
| Burr Size | 98 mm |
| Burr Material | Steel |
| Flat or Conical | Flat |
| Grind Adjustment Type | Infinitesimal Collar Adjustment |
| Average Output | 25 g/s |
| Dose Setting(s) | NA |
| | |
| Other Specifications | |
| Motor Speed | 1760 RPM |
| Power | 1300 W |
| Outlet Rating | 60Hz / 110V (Some Exceptions Apply) |
| Equipped with Fan | No |
| Start | Switch |
Download Parts Breakdown