.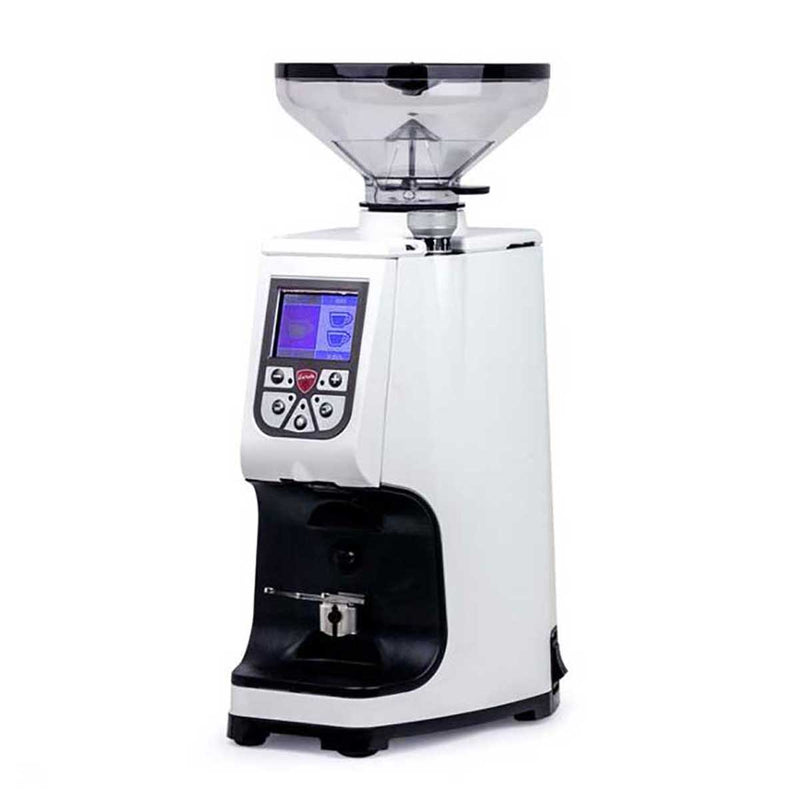 Reason for return
Grinder boxes were opened up to show walk in customer in our showroom. No beans have been used in these grinders, other than what was used during testing in Italy.
Chrome: N/A
Black: N/A
White: Too big for customer's space, returned as buyers remorse.
Overview
The Eureka Atom espresso grinder is well suited to far more than just espresso! Eureka brand grinder's engineers conceive their burr sets to offer grinding abilities suitable for the preparation of both espresso and filter coffee brew methods. It is hard to achieve this kind of versatility at this price point, but somehow, the Atom 75 and other Eureka grinders produce this exceptionally well! While incredibly versatile we suggest the Atom grinder be used for the following brewing methods:
Espresso
Moka
Drip
French Press
The Look
The Atom offers an incredibly small corpus of a grinder with its abilities. The Atom's body style takes up less than nine square inches on your countertop and is just over 17 inches in height, making it suitable for kitchens no matter how small. Generally speaking, when espresso grinders reduce height they sacrifice hopper capacity. With a bean hopper capacity of over a half a pound or 300 grams, you'll keep the rest of that bag of coffee fresh!
75mm Flat Steel Burrs
Boasting large 75mm flat steel burrs, Atom espresso is well equipped with plenty of surface area to grind quickly and efficiently with a reduction in retention. The reduction of retention and the Atom 75 coffee grinder's engineered burrs create beautiful tasting espresso's carefully grinding 1.90 to 2.50 grams per second and 3.10 to 3.70 grams per second on a setting most commonly used for drip brewing methods.
ACE System
The burrs large size isn't the only feature reducing retention, improving flavor, and providing incredibly fluffy grind. The ACE System by Eureka is an anti-clump and electrostatic system that prevents the development of clumps and eliminates electrostatic charge that's created while grinding coffee. Not only does the ACE system reduce static, retention, and clumps, but it is also a significant contributing factor in how clean the Atom 75espresso grinder is. Since the introduction of the ACE system, it is a virtually clean grinding experience!
Adjusting the Atom 75
Few grinders have the adjustment configuration that the Atom 75 has. The 75's near-infinite grind adjustments with its adjustment type, is incredibly easy to use and assists in easy dialing in for espresso and brew. The adjustment knob is located just to the right of the bean hopper. A minute burr adjustment counterclockwise for a coarser grind or clockwise for a finer grind is incredibly easy for anyone to do with the micro-metric infinitesimal worm gear knob. Right out of the box, your Eureka Atom 75 will most likely be dialed in at a relatively coarse grind setting. You're looking for something that feels like something between table salt and flour. You'll want to dial in your grinder in manual mode, and on the Atom 75, it's easy! Press the center * button on the control panel once and then again when you're ready to grind. When you're adjusting your grinder finer you must always have it running so you do not jam the burrs! 
Electronic Dosing
The Eureka Atom 75 is equipped with a full-color electronic dosing screen that is incredibly easy to use and program. Five "Barista Special" buttons allow for the home barista to: alter timed dosing (-/+), single-dose (1-cup), double-dose (2-Cup), and manual grinding mode. Once your grind setting is dialed in, adjusting your dose is easy. Press the single-dose or double-dose button on your Atom 75's control panel. Press the button again and get the desired dose - unlike many other grinders, you can use the -/+ button, and your dose is set! Generally speaking, adjusting the time by 0.50 seconds either reduces the output of ground coffee by two grams or increases it by two grams.
We fulfill orders Monday through Friday from our warehouse in Latham, NY. Orders may take anywhere from 1-3 business days to be fully processed and shipped out. We use USPS or UPS as our preferred carriers. Orders over $50 are eligible for FREE shipping within the contiguous U.S., and we reserve the right to select which carrier to use based on cost and speed in which the package will arrive to the final destination.
Orders over $250 will require a signature for delivery.
If however, you would like to waive this additional insurance,
please fill out the form here
and by doing so you agree to the terms and conditions contained within. Please save all packaging for any future reasons for shipping including returns, exchanges, and repairs. All exchanges & returns must be recieved within 30 days of the ship date. A return can be initiated by contacting a Chris' Coffee customer service representative
here
.
Commercial equipment & coffee are NOT eligible for returns or exchanges.
Read
Full Shipping Policies
&
Full Refund Policy Here
.
Please Note:
Chris' Coffee will not be responsible for any delivery delays due to unforeseen circumstances outside our reasonable control such as delays due to severe weather, natural disasters, strikes, etc.
For any questions or concerns please email
support@chriscoffee.com