.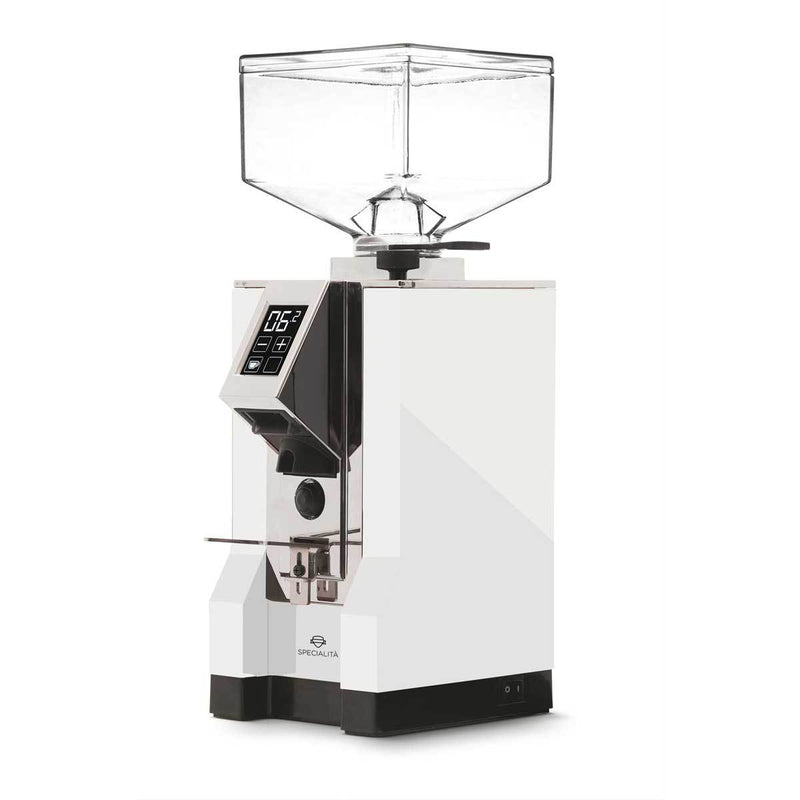 Reason for return
Customer returned as buyers remorse because he was having trouble using it. Small chip on lower corner of grinder, size of a pen mark. 

Overview
Combining form, function, and quality, the Eureka Mignon Specialita is a joy to have on any kitchen counter. With its small size, large burrs, and near-silent grinding, the Eureka Mignon Specialita espresso grinder combines some of Eureka grinder's most excellent features. The beautiful Italian design makes the Mignon Specialita, in our opinion, one of the most attractive grinders within the price point.
Quiet Espresso Grinder
Eureka grinders make some of the most silent coffee grinders on the market. With a thick cast aluminum body, not only does the Eureka Mignon Specialita boast quality in hand, but it also contributes actively to three very crucial factors in a coffee grinder: sound reduction, retention reduction, and longevity. In addition to the thick cast aluminum that insulates sound within the grinding chamber, the Mignon has rubber mounts and gaskets that reduce vibration within the grinder that minimizes the sound as you're grinding espresso.
Easy to Adjust
The Mignon is not only a beautiful and quiet espresso grinder, but it is also effortless to use. With its simple grinding adjustment, a stepless worm gear makes it easy to make minuscule grind adjustments. Something that every home barista knows is the key to a great espresso! When you're adjusting your grinder finer you must always have it running so you do not jam the burrs! 
Easy to Program
The Eureka Mignon Specialita has a high contrast touch screen making all operations incredibly easy to program and monitor your timed dosing. A single color touch screen on the Mignon fits right in with its slick Italian styling. One of our favorite features is the barista pause function that allows you to settle your dose within your espresso grinder and either resume or reset it. Is your timed dosing not appropriately set? Hit the plus or minus button on the touchpad to adjust the time by one-tenth of a second for incredibly accurate dosing.
Minimal Retention Espresso Grinding
How do you get the freshest coffee? Less stale retention! A key factor for many using the Eureka Mignon Specialita, and espresso grinders alike, is retention. Retention is how much ground coffee remains within the grinding chamber of your coffee grinder. When we tested the Eureka Mignon Specialita, and it tested exceptionally well, with as little as less than 1g of retention when single dosing! This minimal retention is not only due to the Mignon's small size but also its sizeable flat steel grinding burrs. The flat burrs are 55mm in diameter, and a reduction in static due to its predominantly aluminum and static-resistant materials also contributes to its minimal retention.
Better Distribution
Another critical factor for an espresso grinder is particle size distribution. Particle size distribution is how a coffee grinder not only grinds the coffee but places it within your portafilter's insert basket. The Eureka Mignon Specialita now has an improved coffee shute that assists in improving the distribution of ground coffee within your portafilter. With it's wider shute, a waterfall of ground coffee evenly dispenses while Eureka grinder's unique anti-clumping system creates a beautifully fluffy grind even with the finest of espresso grinds.
Easy to Clean
Not only does the Mignon Specialita produce exceptional ground coffee with all of its features, but it is easy to maintain as well. After removing a couple of screws, you have full access to your grinding chamber for cleaning and maintenance. Better yet - the lower burr is one that adjusts, not the upper burr, so you still keep your grind setting even after cleaning!
We fulfill orders Monday through Friday from our warehouse in Latham, NY. Orders may take anywhere from 1-3 business days to be fully processed and shipped out. We use USPS or UPS as our preferred carriers. Orders over $50 are eligible for FREE shipping within the contiguous U.S., and we reserve the right to select which carrier to use based on cost and speed in which the package will arrive to the final destination.
Orders over $250 will require a signature for delivery.
If however, you would like to waive this additional insurance,
please fill out the form here
and by doing so you agree to the terms and conditions contained within. Please save all packaging for any future reasons for shipping including returns, exchanges, and repairs. All exchanges & returns must be recieved within 30 days of the ship date. A return can be initiated by contacting a Chris' Coffee customer service representative
here
.
Commercial equipment & coffee are NOT eligible for returns or exchanges.
Read
Full Shipping Policies
&
Full Refund Policy Here
.
Please Note:
Chris' Coffee will not be responsible for any delivery delays due to unforeseen circumstances outside our reasonable control such as delays due to severe weather, natural disasters, strikes, etc.
For any questions or concerns please email
support@chriscoffee.com