.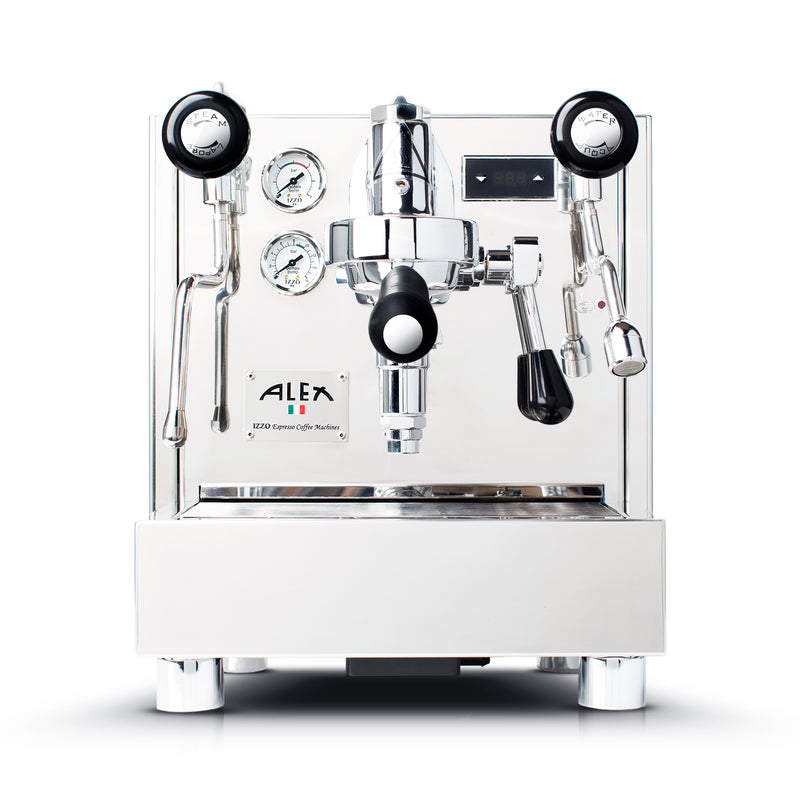 Izzo Alex Duetto IV Plus
With the Alex Duetto IV Plus, Izzo has outdone itself and brought to market a real powerhouse when it comes to dual boiler espresso machines. This machine is capable of handling multiple drinks right in a row thanks to its quick recovery time, large boilers, and heavy-duty heating elements. The Duetto IV comes standard with a dual PID, shot timer, and a raised E61 group, making it easier to slide larger cups beneath the group head. Making lattes and cappuccinos with the Duetto IV is an absolute delight.
Included in Your Order:
FREE Shipping
FREE Two-Year Warranty from Chris' Coffee ($198 Value)
FREE 20A Converter Cord ($14 Value)
Highlights
New PID & badge as of October 2022!
We introduced Izzo to the North American consumer decades ago and they still impress us daily! Unwavering focus on quality from the stainless steel frame, gorgeous industrial stainless steel body, down to the bits that you won't see - like the stainless steel mushroom and gicleur. The Alex Duetto not only stands out on the counter of your kitchen, but you'll be just as impressed as we are daily with the build quality for decades to come.
Why Buy?
The Duetto IV is dual boiler espresso machine capable of handling multiple café style drinks one after another due to its quick recovery time, large boilers, and heavy duty heating elements. This show stopper of an espresso machine is not only beautiful aesthetically, but is backed by unparalleled reliability and functionality.

This machine comes standard with a dual PID, with built in shot timer, for better shot efficiency and consistency. The PID is a devise that allows for extreme temperature stability by accurately monitoring the water temperature and keeping it within a small range. Unlike a thermostat that simply shuts off when the set temperature is reached, causing it to continue to heat up or cool down after it's off the PID will give little pulses of energy when needed to keep the temperature within the desired range.

The Duetto sports hefty lead free copper and brass boilers, which are known for retaining heat better than some other materials that have been used in espresso machines such as stainless steel. With a copper boiler, you'll also have less susceptibility to chloride stress corrosions which could occur in other Alex Duetto models after having this lifelong companion for a couple of years.
Raised E61 group head making it easy to slide larger cups underneath for those much needed to-go cappuccinos when you're running late for work, or to drop the kids off. The group head itself is 8 lbs. of chrome plated brass which plays a vital role in keeping your water temperature stable when making its way from the boiler to the cup ensuring only the best shot of espresso with minimal heat loss!

Excellent steam pressure thanks to the large 1.8 liter boiler, and well designed 2 hole steam tip with the holes pointing straight down making it very easy to get silky well textured micro foam. Accompanied by a no burn steam wand insulated for your fingertips protection, making lattes and cappuccinos on the Duetto IV is an absolute delight.
Size
A reduction in the size of the drip tray has increased cup clearance, a common request, which leaves plenty of room - nearly six inches of cup clearance even your favorite mug will fit under the group! Not only is the Alex Duetto an impeccably made dual-boiler home espresso machine, but it has an incredibly flexible feature set as well.
Noise

Operating any espresso machine within your home or a commercial setting noise is always a concern. To reduce the sonority of the Alex Duetto we have updated the motor mounts to reduce vibration while activated. The pump and motor are where a majority of your machine's noise will stem from; in addition to the new motor mounts, an even quieter rotary pump has been installed. There is now also a solid-state relay (SSR) which is more reliable and quiet. The drip tray is equipped with two small magnets that reduce vibrations within the drip tray.
Pre-Infusion
What is pre infusion? Pre-Infusion is the act of introducing water to your puck of coffee inside your insert basket at a lower pressure, usually 1-4 bars, prior to full pressure. On an E61 group, automatic pre-infusion using residual pressure, either within your brew boiler, or your water source's line pressure. The benefit of pre infusion is that it settles the coffee within your portafilters insert basket reducing channeling and improves extraction. 
Water Source

Switching water source is made incredibly simple with the single toggle switch located behind the magnetic drip tray. Easily switch water sources from the nearly three-liter reservoir to direct-plumb. The Alex Duetto also has the ability to easily switch between the most common configuration for the home kitchen, 15-amps, or 'full-power' mode with 20-amps. Quickly switch between the two with a couple of clicks of your built-in PID controller.
Boilers
Each boiler on the Alex Duetto is independently controlled and operated. If you're not using the service boiler, this is where your steam and hot water comes from, you can turn that boiler off while leaving your brew boiler on. This switch is located on the right side of the most recent model of the machine near the illuminated power switch.
Internal Improvements
Through our work with Izzo, some seemingly minor changes were made that increase longevity and decrease repair costs. We have inverted the motor position, now the motor is located above the pump. This inversion ensures that if your pump was to fail it will not also destroy the motor by leaking into it. In addition to the inversion of the motor position, the Alex Duetto IV Plus has an easy-to-access pump adjustment screw. This adjustment is accessible on the left side and adjusts your pump pressure with the turn of a screwdriver.
Reinforced Group
A common complaint we hear when people receive their machine with an E61 style machine is the flexing of the front panel over time. This is a common complaint that as you lock your portafilter into place, most particularly when you have a brand new gasket, well we've thought of this too! Izzo has reinforced the front panel to reduce flexing which further contributes to this substantial machine's commercial build quality for your home.
15 Amp vs. 20 Amp
The Duetto IV can be run in 15 or 20 amps. During your selection process please select one of the two options, we will set your machine to whichever is your choice during the bench testing process and include the convertor cord free of charge if you select 15 amps. If you're unsure of which to select pop into our live chat in the bottom right corner of the screen for more information!
Easy Repairs
With almost all of our home espresso machines, they carry a two-year warranty provided directly through us, Chris' Coffee. This two-year warranty provides nearly everything that you'd need to fix flaws that may arise during this time period. After that time, however, you are not left out in the cold! Our service technicians are always available by phone for you. Knowing that many of you will have to make some repairs yourself we have made the following adjustments to the Alex Duetto IV+ to make your life much easier while self-repairing.
Boiler drain plugs make it incredibly convenient for you to drain your boilers for either shipping your machine during cooler weather or in preparation for descaling.
Changing the heating elements on your Alex Duetto IV+ is now incredibly easy, two screws and you have full access.
Heating elements and boilers anchored to prevent shifting, also rubber insulating boots cover key connections (similar to spark plug wires) for protection.
Customization
With five distinct configurations available for the Izzo Alex Duetto IV Plus we at Chris' Coffee, want to offer "best in class" machines, ones that you'll have for many years to come! The ability to customize our curated selection of home espresso machines is imperative to making it your own. Like many of our espresso machines - joysticks can easily be added during bench testing at no additional charge. If you do choose to have joysticks included/installed with your machine, the joystick 'knobs' will always be black and there are no additional colors available. 
You can also select between 3 unique accents in red, white, or wood if you choose to have knobs. Click here to view what's included in these kits!
Included with the Duetto IV
1 single spouted portafilter with insert basket
1 double spouted portafilter with insert basket
1 metal back flush disk
1 metal 58mm tamper
1 braided water line
1 drain hose
1 2 hole steam tip
We fulfill orders Monday through Friday from our warehouse in Latham, NY. Orders may take anywhere from 1-3 business days to be fully processed and shipped out. We use USPS or UPS as our preferred carriers. Orders over $50 are eligible for FREE shipping within the contiguous U.S., and we reserve the right to select which carrier to use based on cost and speed in which the package will arrive to the final destination.
Orders over $250 will require a signature for delivery.
If however, you would like to waive this additional insurance,
please fill out the form here
and by doing so you agree to the terms and conditions contained within. Please save all packaging for any future reasons for shipping including returns, exchanges, and repairs. All exchanges & returns must be recieved within 30 days of the ship date. A return can be initiated by contacting a Chris' Coffee customer service representative
here
.
Commercial equipment & coffee are NOT eligible for returns or exchanges.
Read
Full Shipping Policies
&
Full Refund Policy Here
.
Please Note:
Chris' Coffee will not be responsible for any delivery delays due to unforeseen circumstances outside our reasonable control such as delays due to severe weather, natural disasters, strikes, etc.
For any questions or concerns please email
support@chriscoffee.com
| Dimensions | |
| --- | --- |
| Height | 16.5 in. |
| Width | 13.5 in. |
| Depth | 17.5 in. |
| Cup Clearance | 5.9 in. Drip Tray to Group / 3.75 in. Drip Tray to Portafilter Spout |
| Weight | 72 lbs. |
| | |
| Electrical | |
| Voltage | 110 V |
| Amperage | 15 or 20 A |
| Wattage | 1200 / 800 W |
| Outlet Requirements | 60 Hz / 110 V (Some Exceptions Apply) |
| | |
| Other Specifications | |
| Boiler(s) Material | Brass / Copper |
| Boiler Size | .8 / 1.8 L |
| Certifications | None |
| Reservoir Size | 2.3 L |
Download Parts Breakdown