.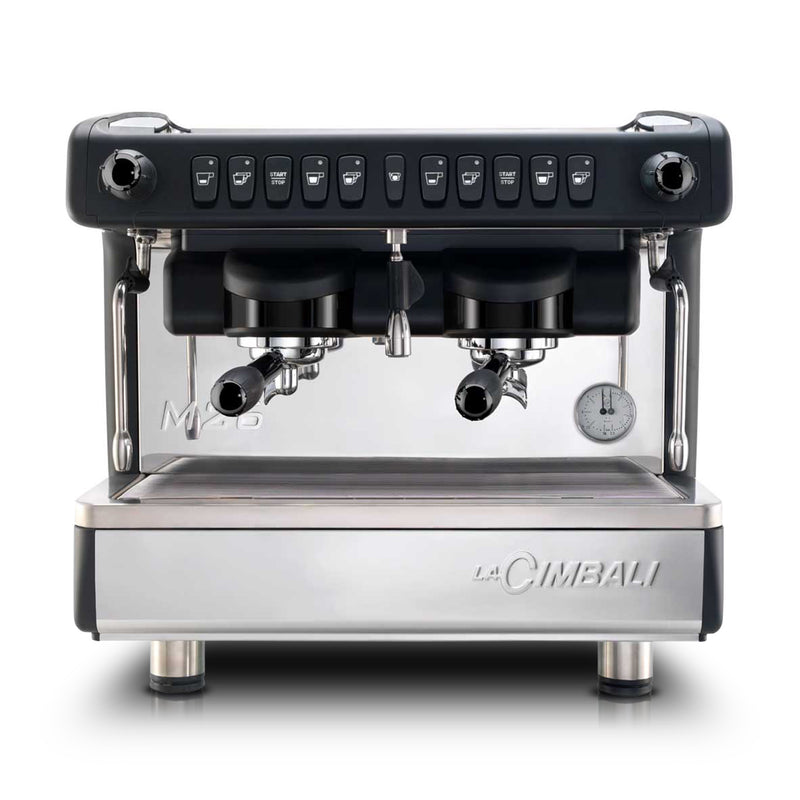 Highlights
You will not believe how versatile the M26 commercial espresso machine is, along with how easy it is to use! Made from stainless steel and ABS and comes equipped with more than just good looks. The ergonomic and versatile, stylish, and easy to maintain design puts it at the top of our list! It's not our favorite because of its design though - its technical advantages guarantee impeccable quality in the cup and also reduces operating costs.
We Currently Stock:

M26 TE two-group compact tall-cup with turbo steam
M26 BE two-group compact regular height
M26 BE two-group compact tall cup
Available in one-group, two-group, compact two-group, three-group, and tall-cup versions.  Tall cup clearance is 5.5" from drip tray to the bottom of a spouted portafilter.
La Cimbali Thermal System
Equipped with reliable La Cimbali Thermal System is the foundation of the best espresso your customers can buy! Even the slightest temperature fluctuation can affect what your next drink tastes like.
Individual Temperature Control of Each Group
The La Cimbali M26 machine has many features found on commercial espresso machines much more expensive than itself. One of which is that you will be able to individually control the temperature of each group's brew boiler.
The M26 is a heat exchanger machine that has a boiler large enough for busy rushes. The disadvantage is that your brew temperature is commonly too high on most heat exchanger machines. On many commercial machines, you would have to do long cooling flushes to reduce the brew temperature. This will not be a problem on the M26!
The M26 has a cold water mixing valve thus reducing brew temperature for each group. This reduction in temperature eliminates the need for a long cooling flush.
Energy Savings = Saving Money
The Cimbali Economiser maintains some functions of the M26 machine. It is available in total on the non-compact models. The service display adds additional controls including date information and service details. The M26 machine's economizer maintains: boiler temperature, energy-saving lights, and reduces consumption during periods of inactivity.
These energy savings translate into the lessening of your operating costs. The largest savings you'll see with the Cimbali Economiser is with the M26 smart boiler. When within a period of inactivity the smart boiler reduces the boiler temperature, saving energy while keeping it ready for your next rush!
When prompted the smart boiler can resume full operating status in 60-90 seconds. You'll be ready in less time than it takes for someone to place their drink order!
Easy to Use Commercial Espresso Machine
On the Cimbali M26, you're not only getting a solid commercial espresso machine, but the M26 machine is easy to use too. The workflow of any machine is imperative to making more money and reducing the time training takes. Making the electromechanical button panel longer eases barista fatigue and makes it even easier to produce quality drinks back-to-back. So how does the Cimbali M26 do it?
Longer Steam Arms
In addition to the volumetric button panel, longer steam wands made from stainless steel on either side of the machine improve the M26 workflow. The longer steam arms improve workflow by allowing two baristas at a time to steam milk. This doubles the number of drinks you can make on the LaCimbali M26!
The two longer steam arms also make it easier to make multiple drinks at the same time. Your steam arm needs to extend near the bottom of the pitcher to be able to make quality microfoam. With larger pitchers, this can be almost impossible on some commercial machines.
The longer steam arms on the M26 machine, however, is long enough to extend near to the bottom of even the largest steaming pitchers. This will allow for milk to be steamed much more quickly for multiple lattes, cappuccinos, etc. Thus making the La Cimbali M26 TE tall-cup even more ideal for cafes and restaurants offering to-go service.
Volumetric Controls
Volumetric controls on any espresso machine make it an automatic. These automatic brewing controls start when the user presses one of the buttons above the group. Even more important, the consistency no matter who is behind the M26.
For each group, there are four volumetric controls and a manual button for the more experienced barista. With the M26 your consistency drink-to-drink will significantly increase. Make every barista your customer's favorite barista!
Turbo Steam Automatic Steam Arm
In addition to the button panel, longer steam wands, and a service display to ensure up to date information (only available on select models), the La Cimbali M26 TE commercial espresso machine is already incredibly impressive. Cimbali makes the offer even more attractive with "one of the best automatic steamers I've ever used…right out of the box, it steamed milk enough for me to pour latte art" as said by a top barista.
The turbo steam is set to turn off the steaming as it reaches a set temperature. It has two settings: one for lattes and one for cappuccinos. The Cimbali turbo steam automatic steam arm is calibrated such that it will steam without quality loss all the way down to somewhere between ~0.5bar and ~0.75bar. This is a definite plus since this machine, especially on such a compact commercial espresso machine.
We fulfill orders Monday through Friday from our warehouse in Latham, NY. Orders may take anywhere from 1-3 business days to be fully processed and shipped out. We use USPS or UPS as our preferred carriers. Orders over $50 are eligible for FREE shipping within the contiguous U.S., and we reserve the right to select which carrier to use based on cost and speed in which the package will arrive to the final destination.
Orders over $250 will require a signature for delivery.
If however, you would like to waive this additional insurance,
please fill out the form here
and by doing so you agree to the terms and conditions contained within. Please save all packaging for any future reasons for shipping including returns, exchanges, and repairs. All exchanges & returns must be recieved within 30 days of the ship date. A return can be initiated by contacting a Chris' Coffee customer service representative
here
.
Commercial equipment & coffee are NOT eligible for returns or exchanges.
Read
Full Shipping Policies
&
Full Refund Policy Here
.
Please Note:
Chris' Coffee will not be responsible for any delivery delays due to unforeseen circumstances outside our reasonable control such as delays due to severe weather, natural disasters, strikes, etc.
For any questions or concerns please email
support@chriscoffee.com
| Commercial Dimensions | |
| --- | --- |
| Height | 23.39 (Standard) in. 31.26 (Tall Cup) in. |
| Width | 21.57 (Standard & Tall Cup) in. |
| Depth | 20.79 (Standard & Tall Cup) in. |
| Cup Clearance | 5.1 in. |
| Weight | 154 lbs. |
| | |
| Electrical | |
| Voltage | 120 V |
| Amperage | 20 A |
| Wattage | 1700 W |
| Outlet Requirements | 60 Hz / 110 V (Some Exceptions Apply) |
| | |
| Other Specifications | |
| Boiler(s) Material | Ruv Tech Coated Brass |
| Boiler Size | 5 L |
| Certifications | RoHS Compliant, UL, CE |
| Reservoir Size | Direct Plumb Only |
Download Parts Breakdown