.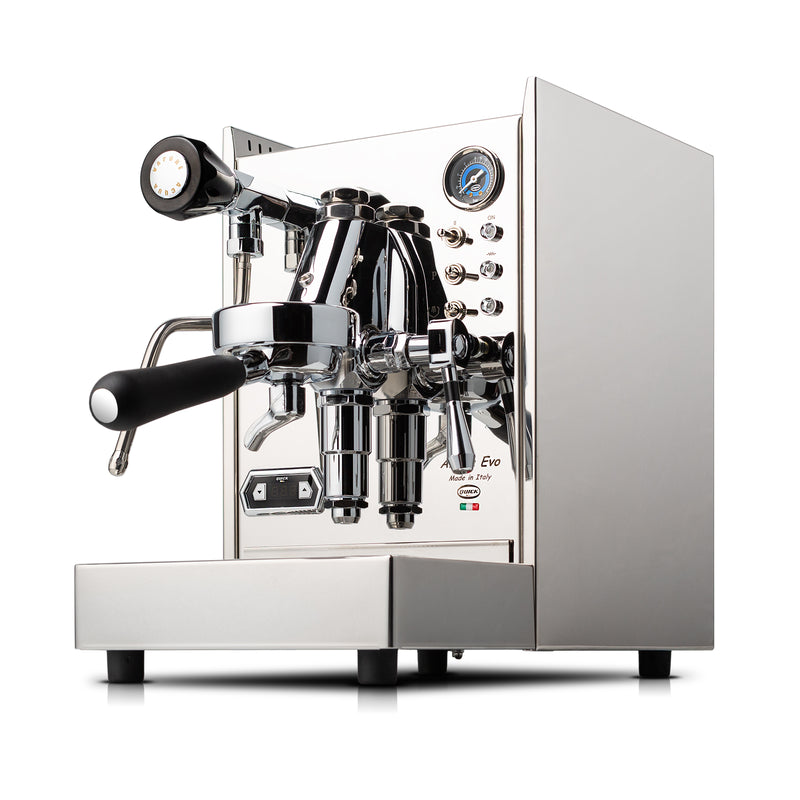 Quick Mill Alexia Evo
Modeled after the Eliane single boiler espresso machine from Quick Mill, the Alexia Evo is a perfect blend of modern and classic. From improved temperature control and stability, to the tried-and-true 58mm E61 group, there's no greater value out there in such a tiny package. You'll feel like a true barista in just a matter of minutes while operating the Alexia Evo.
Included in Your Order:
FREE Shipping
FREE Two-Year Warranty from Chris' Coffee ($198 Value)
Highlights
Modeled after the late Eliane Quick Mill single-boiler espresso machine, the Quick Mill Alexia Evo espresso machine introduces modernity and improves temperature control and stability while maintaining the key configuration of the Eliane that made up its quality, long-lasting, and beloved single boiler home espresso machine.
From unboxing to initial start-up quality and a focus on decades of regular use is at the forefront of Quick Mill's mind, along with ours. Unboxing your Quick Mill Alexia Evo espresso machine you'll notice right away it's beautifully industrial prosumer grade introduced by the #304 high-quality stainless steel construction from frame to external shell. In addition to the beautiful stainless steel construction, the Alexia Evo boasts a commercial 58mm E61 group equipped with thermosyphon to maintain the brew temperature of all of your brewing components. Low-lead brass components are used throughout the entirety of the machine, including the E61 group.

PID with Built-In Shot Timer
Building on Elaine's already beloved feature-set, the Quick Mill Alexia Evo espresso machine has a PID with built-in shot timer - greatly improving the single boiler's temperature stability. For the espresso lover who occasionally might make a milk-based beverage like a latte, cappuccino, cortado, etc. this is extremely important! Temperature control shot-to-shot is a top priority because  a temperature fluctuation of only a single degree will equate to a completely different taste imparted on your cup of espresso. It's a must for all home espresso machines.
Insulated Single Boiler
In addition to the Quick Mill Alexia Evo's PID with built-in shot timer, the T.E.A coated single boiler is fully insulated with a velcro boiler wrap reducing heat loss. Quick Mill's patented T.E.A. coating further reduces the chance that metal from the low-lead brass boiler could leach into any part of the produced coffees. For ease of service, no fuss boiler drains can be accessed without removing any panels, thus making transporting your machine or shipping it for service hassle free.
No Burn Steam Arm
To prevent burns the Quick Mill Alexia Evo espresso machine is equipped with a no-burn steam arm. In addition the valve itself is non compression easy to turn off and on. This no-burn steam arm, unlike the Elaine, is fully articulating which swivels in all directions. The ability to stretch and move the steaming pitcher in comfortable ways is key to making latte art. To further help in producing amazing micro-foam the Alexia Evo now has a two-hole steam tip which increases the intensity of the steam exiting your no-burn arm allowing you ample time prior to overheating your milk to produce the perfect micro-foam!
Using the Quick Mill Alexia
After unboxing the Quick Mill Alexia Evo espresso machine you'll notice the three-position switch on the upper right-hand side of the machine just below the manometer. This device reads brew pressure as well as steam pressure. The pressure can easily be adjusted with the easy-to-access expansion valve located underneath the warming tray. This three-position switch functions not only as you might imagine, as simply the power switch, but also contains some cost-saving measures that will protect your machine from the heating element being damaged during initial start up. In the center position, your Quick Mill Alexia Evo is powered off.
Upon initial set-up you'll fill the three-liter BPA free water reservoir by lifting the hinged top cover of the cup warmer and switch the machine to the left (1) position, this will allow the boiler to fill, once filled and hot water is exiting the E61 group you can switch the three-position switch to the right (2) position which will fully power on the machine and start heating. Once your boiler has been filled the initial time, you'll just have to switch your machine from the center (off) position to the right (2) position.
As you start to use your machine to make lovely espressos, rich lattes, and frothy cappuccinos you'll start to run low on water. No need to look into your reservoir to check levels - the low-water sensor, the same one that the Alexia Evo and Andreja Premium are equipped with, you'll hear an audible beep indicating low-water.
Pulling a Shot of Espresso
After you've set-up the Quick Mill Alexia Evo and your PID with built-in shot timer to read your desired temperature (usually around 198 degrees Fahrenheit) you're ready to pull your first shot of espresso coffee! The beauty of the PID is that you always know what the internal temperature of your boiler is, increasing shot-to-shot consistency within a fraction of a degree! Once you've ground your coffee with an espresso grinder like the Ceado E37J E5P, Eureka Mignon Specialita, or Rocket Faustino and tamped with a tamper like a wood and stainless steel 58mm tamper you're halfway to some of the best espresso coffee you've had! Lock your portafilter into the commercial E61 group and lift the semi-automatic cam (brew) lever. Your built-in PID with a shot timer will start to count up until the brew (cam) lever is pushed back towards the front of the machine. You're shooting for anywhere between 20-30 seconds per shot: if your shot is short of that you'll have to make your grind a little finer and if your shot is longer than 20-30 seconds you'll have to make your grind a little coarser.
Making a Latte, Cappuccino, etc.
Now that your machine is heated up and your boiler is full, it's time to get ready to steam your milk first before pulling your shot of espresso coffee. To do so, turn the third switch from the top on, hot water will purge from the steam wand. Continue doing so until steam exits the wand. Once you have steam, start steaming your milk. After doing so you're ready to make your espresso. Turn the brew switch on to reduce temperature and engage the brew lever until the hot water exits the group. Now you're ready to pull a shot of espresso, it's that easy, just a couple of steps!
Technical Notes
Boiler drain - allows the boiler to be completely drained for service or shipping
Pulsar added - Makes the

vibratory pump

25% quieter
Custom knobs - easier to use. and more aesthetically pleasing to the eye

Non-compression valves - Easier to use and less expensive to repair than compression
No burn steam wand - Cool touch, does not burn hands and milk does not build-up
Hinged top cover, no need to remove the cup warming tray to refill the water tank
Easy access expansion valve, no need to remove the outer shell to adjust
Three-position power switch (left - power on for initial fill, center - power off, right - power on and heating)
Ulka 52 watt vibratory pump with thermal overload protection
A precise magnetic switch detects the low water level

Large pull-out stainless drip tray with 46-ounce capacity
Dual-purpose pressure gauge
High-quality stainless steel construction #304
Bottom fed BPA free water reservoir
Included with the Alexia Evo
1 stainless steel back flush disk
1 single spouted portafilter with insert basket
1 double spouted portafilter with insert basket
2 Hole Steam Tip
Please note that photos need to be updated, and the gauge in the upper right corner is now navy blue not white
We fulfill orders Monday through Friday from our warehouse in Latham, NY. Orders may take anywhere from 1-3 business days to be fully processed and shipped out. We use USPS or UPS as our preferred carriers. Orders over $50 are eligible for FREE shipping within the contiguous U.S., and we reserve the right to select which carrier to use based on cost and speed in which the package will arrive to the final destination.
Orders over $250 will require a signature for delivery.
If however, you would like to waive this additional insurance,
please fill out the form here
and by doing so you agree to the terms and conditions contained within. Please save all packaging for any future reasons for shipping including returns, exchanges, and repairs. All exchanges & returns must be recieved within 30 days of the ship date. A return can be initiated by contacting a Chris' Coffee customer service representative
here
.
Commercial equipment & coffee are NOT eligible for returns or exchanges.
Read
Full Shipping Policies
&
Full Refund Policy Here
.
Please Note:
Chris' Coffee will not be responsible for any delivery delays due to unforeseen circumstances outside our reasonable control such as delays due to severe weather, natural disasters, strikes, etc.
For any questions or concerns please email
support@chriscoffee.com
| Dimensions | |
| --- | --- |
| Height | 15.875 in. |
| Width | 9.5 in. |
| Depth | 17.5 in. |
| Cup Clearance | 0 in. |
| Weight | 38 lbs. |
| | |
| Electrical | |
| Voltage | 110 V |
| Amperage | 15 A |
| Wattage | 1400 W |
| Outlet Requirements | 60 Hz / 110 V (Some Exceptions Apply) |
| | |
| Other Specifications | |
| Boiler(s) Material | Copper / Brass-Coated |
| Boiler Size | .75 L |
| Certifications | None |
| Reservoir Size | BPA Free 3 L |
Download Parts Breakdown