.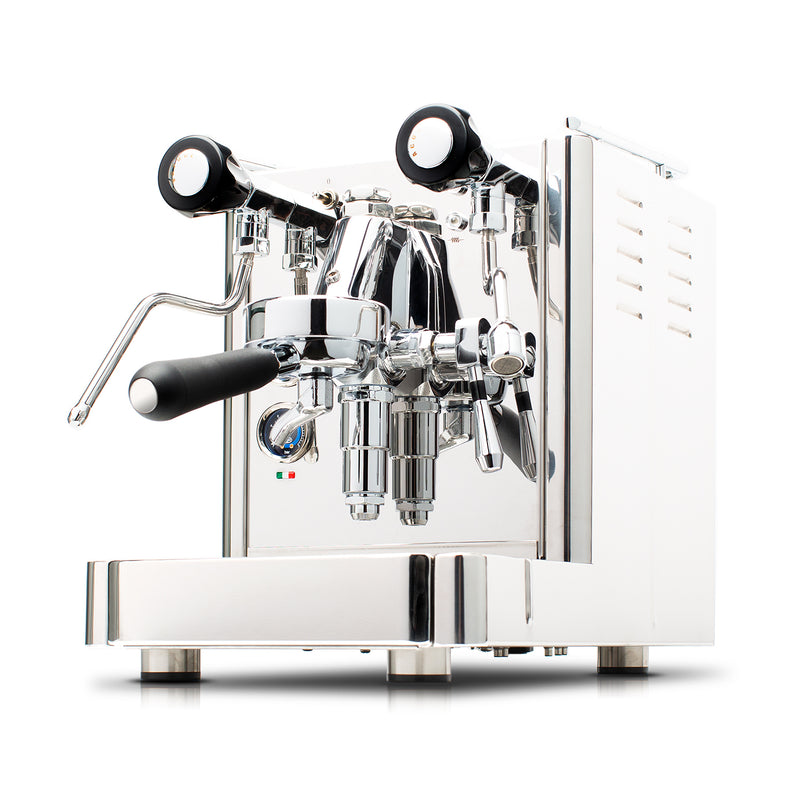 Quick Mill Andreja Premium Evo
The Quick Mill Andreja Premium is extremely well-suited for those who are tight on countertop space. Coming in at just 16 in. tall and less than a foot wide, this compact heat exchanger machine also clocks in at only 46 pounds making it easy to move and readjust. This espresso machine has been on the market for many years, and we carry it still to this day for its durability, reliability, and its timeless look and Italian style.
Included in Your Order:
FREE Shipping
FREE Two-Year Warranty from Chris' Coffee ($198 Value)
Highlights

Named after a Brazilian model, Andreja, who worked the Quick Mill booth many years ago, the Quick Mill Andreja Premium Evo certainly lives up to the classic beauty it represents. The iconic commercial E61 group with automatic preinfusion jumps off of the brilliantly polished #304 food-grade stainless steel shell and frame. It's beautiful curves of stainless steel exhibit Quick Mill's history as a stainless steel fabricator with immense intricacy while accented deep blue manometers display brew and boiler pressure. LED indicator lights to the top left near your three-position switch and by the hot water wand also monitor machine operations convenient during the brew cycle and while interfacing with technical support.
Key Features
The Quick Mill Andreja Premium Evo is especially well suited to those who are strapped for space. Ringing in at less than 50lbs it's incredibly easy to move around. Height is generally a concern for home espresso machine purchasers, and the Andreja Premium Evo is only 16 inches high leaving plenty of room for filling your water reservoir even while under your upper cabinets. This size, however, does not affect the amount of cup clearance available. Most standard coffee cups in your home will fit directly under the group with a five-inch cup clearance from the drip tray to the bottom of the E61 group.
Joysticks
Looking to swap out the turn style knobs on the machine for the joysticks, but unsure exactly what a joystick is? Click here to take a look!
Using the Andreja Premium
After removing the Andreja Premium Evo from the box, since we've already done a lot of the work for you during our bench testing prior to the shipment of your espresso machine, all you have to do is plug your Quick Mill into a regular 15-amp kitchen outlet and make sure the three-position switch is in the 0 or center position (off).
After plugging in your Andreja Premium Evo fill the 3 liter BPA free water reservoir with soft, well-filtered water, and you're ready to start filling your boilers. The new style reservoir is bottom-fed without silicone tubes which reduces cavitation and allows for easier filling. Switch the three-position switch to the left, position one, to activate the pump. Your Quick Mill Andreja Premium Evo is equipped with a brass ended 52-watt ulka pump, which is more durable than pumps that have plastic ends and commonly break over time causing leaks. The higher wattage pump doesn't have to work as hard and produces far less noise with the pulsar installed, which also reduces pressure fluctuations. 
After the large nearly 2 liter T.E.A. coated boiler has been filled and water is exiting the E61 group - turn the three-position switch to the far right (position III) to engage the powerful 1400 watt heating element and start heating your boiler. With the 1400 watt heating element, even after making multiple espresso drinks one after another, your machine will recover very quickly.
Now that your Quick Mill Andreja Premium Evo is up to temperature, you're ready to start making your first drink! The Quick Mill Andreja Premium Evo is extremely well suited to the milk-based beverage lover's use and has been one of our favorite heat exchangers since we started exclusively importing the Andreja many years ago. Its ability as a heat exchanger to simultaneously brew and steam milk reduces the time it takes to produce a quality drink but also makes it that much easier for the home barista's workflow.
Technical Notes
E61 Group with Automatic Pre infusion
Semi-Automatic Operation
Steam and Brew Espresso Simultaneously
Well Suited to Predominantly Milk-Based Drinks
Reservoir (Pour Over) Only
Refill water alarm (sounds when out of water)
Sirai Pressure Stat: more durable and turns off the heating elements when at pressure.
Easy access vacuum breaker valve: easily adjust brew pressure and prevent vapor lock problems commonly seen when a machine is put on a timer. Vapor locks can become a problem when the machine is on a timer if there is no vacuum breaker installed.
Klixon thermal fuse: attached to the 52-watt Ulka vibratory pump which further protects the pump by shutting it off in the event that it runs too long and overheats.
Resettable hi-limit: prevents the boiler from over-heating. If overheating does occur you can just reset it instead of having to completely replace it.
Boiler drains on the bottom of the boiler and a larger access port size for easily draining your boilers for both transport, prolonged downtime (vacation), and service prior to transport.
Stainless Steel Frame
Bottom fed BPA free water reservoir
Included with the Andreja Premium Evo
1 single spouted portafilter with insert basket

1 double spouted portafilter with insert basket
1 Stainless Steel back flush disk
1 58mm metal tamper with wood handle
We fulfill orders Monday through Friday from our warehouse in Latham, NY. Orders may take anywhere from 1-3 business days to be fully processed and shipped out. We use USPS or UPS as our preferred carriers. Orders over $50 are eligible for FREE shipping within the contiguous U.S., and we reserve the right to select which carrier to use based on cost and speed in which the package will arrive to the final destination.
Orders over $250 will require a signature for delivery.
If however, you would like to waive this additional insurance,
please fill out the form here
and by doing so you agree to the terms and conditions contained within. Please save all packaging for any future reasons for shipping including returns, exchanges, and repairs. All exchanges & returns must be recieved within 30 days of the ship date. A return can be initiated by contacting a Chris' Coffee customer service representative
here
.
Commercial equipment & coffee are NOT eligible for returns or exchanges.
Read
Full Shipping Policies
&
Full Refund Policy Here
.
Please Note:
Chris' Coffee will not be responsible for any delivery delays due to unforeseen circumstances outside our reasonable control such as delays due to severe weather, natural disasters, strikes, etc.
For any questions or concerns please email
support@chriscoffee.com
| Dimensions | |
| --- | --- |
| Height | 16 in. |
| Width | 11.5 in. |
| Depth | 17.5 in. |
| Cup Clearance | 5.625 in. |
| Weight | 46 lbs. |
| | |
| Electrical | |
| Voltage | 110 V |
| Amperage | 15 A |
| Wattage | 1400 W |
| Outlet Requirements | 60 Hz / 110 V (Some Exceptions Apply) |
| | |
| Other Specifications | |
| Boiler(s) Material | T.E.A. Coated Brass |
| Boiler Size | 1.8 L |
| Certifications | None |
| Reservoir Size | BPA Free 3 L |
Download Parts Breakdown