.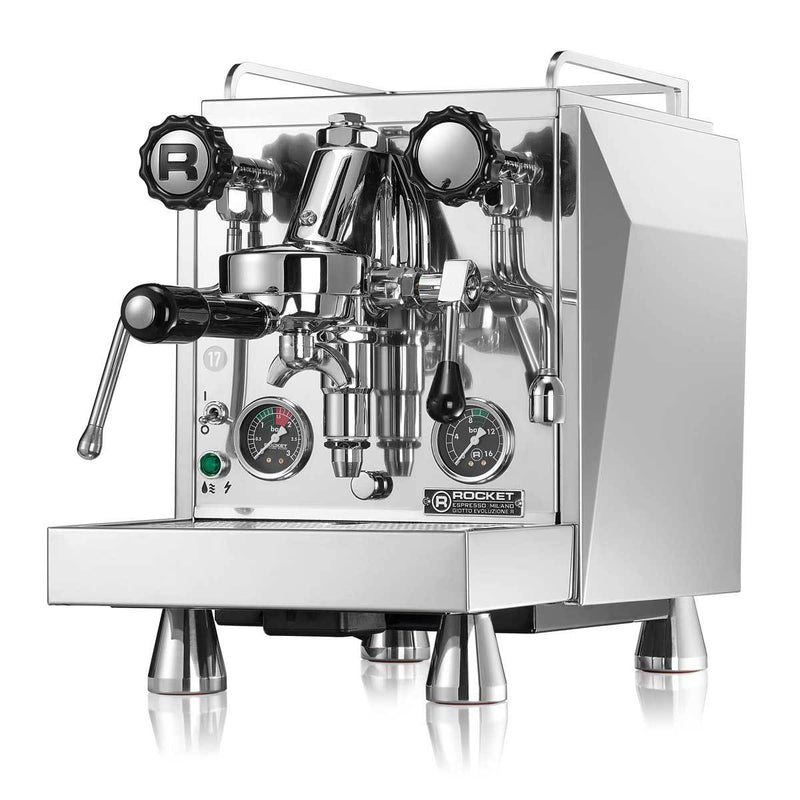 Reason for return
Customer returned as buyers remorse, and bought a dual boiler machine instead.

Highlights

Rocket Espresso Milano has further expanded the Evoluzione experience, redesigning one of their popular home espresso machines. The Rocket Giotto Evoluzione R has an insulated boiler and a remodeled internal layout, specially crafted to insure you have a quieter and more refined time pulling out shots of hot, delicious espresso and cappuccinos. This new version of the Rocket Giotto espresso machine Evoluzione model is practically equal to any commercial espresso machine.
Rocket Espresso Milano wanted to make the Giotto Evoluzione one of its most versatile espresso machines on the market. The Giotto has a rotary pump and can use its large 2.9 liter water reservoir tank or be direct plumbed from your main water supply. It also has advanced special features, such as the ability to adjust the pump pressure externally for finely tuned extractions and a PID thermostat for great temperature stability while brewing.
Key Features

Design
This Rocket Giotto espresso machine has an elegant outer design made of beautiful 304 grade Stainless Steel. Rocket Espresso Milano's proven Thermosyphon system is included, with its superior layout for optimal extraction.
Internal
The 1.8 liter boiler is made of pure copper with a lead free brass end plate. It is plated with nickel to protect against copper oxidation. The water reservoir holds 2.9 liters of fresh water, plus is made of a certified food grade plastic and has a low level indication system to warn you when the water is scarce.
Joysticks
Looking to swap out the turn style knobs on the machine for the joysticks, but unsure exactly what a joystick is? Click here to take a look!
Technical Notes

Stainless steel cup guard
Redesigned adjustable feet
PID temperature controller replaces the pressure stat
Black boiler and group pressure gauges
E61 commercial group with automatic pre-infusion
Finely crafted 304 stainless steel case
No-Burn stainless steel hot water and steam wands with teflon tubing inside which replaced the previously used silicone (effective 2020)
Easy access to the water tank

Nickel plated insulated 1.8 liter copper boiler
Resettable high limit
Control board
Rotary pump and motor
Large 2.9 liter water reservoir
Low water sensor
Water source control switch, from direct plumb to water tank
Informative DVD that explains how to make great espresso
User manual
15 amp / 110 volt
3" clearance between the drip tray and the portafilter
Included with the Giotto Evo

1 single spouted portafilter with insert basket
1 double spouted portafilter with insert basket
2 hole steam tip
1 metal 58mm tamper
1 stainless steel back flush disk
We fulfill orders Monday through Friday from our warehouse in Latham, NY. Orders may take anywhere from 1-3 business days to be fully processed and shipped out. We use USPS or UPS as our preferred carriers. Orders over $50 are eligible for FREE shipping within the contiguous U.S., and we reserve the right to select which carrier to use based on cost and speed in which the package will arrive to the final destination.
Orders over $250 will require a signature for delivery.
If however, you would like to waive this additional insurance,
please fill out the form here
and by doing so you agree to the terms and conditions contained within. Please save all packaging for any future reasons for shipping including returns, exchanges, and repairs. All exchanges & returns must be recieved within 30 days of the ship date. A return can be initiated by contacting a Chris' Coffee customer service representative
here
.
Commercial equipment & coffee are NOT eligible for returns or exchanges.
Read
Full Shipping Policies
&
Full Refund Policy Here
.
Please Note:
Chris' Coffee will not be responsible for any delivery delays due to unforeseen circumstances outside our reasonable control such as delays due to severe weather, natural disasters, strikes, etc.
For any questions or concerns please email
support@chriscoffee.com