.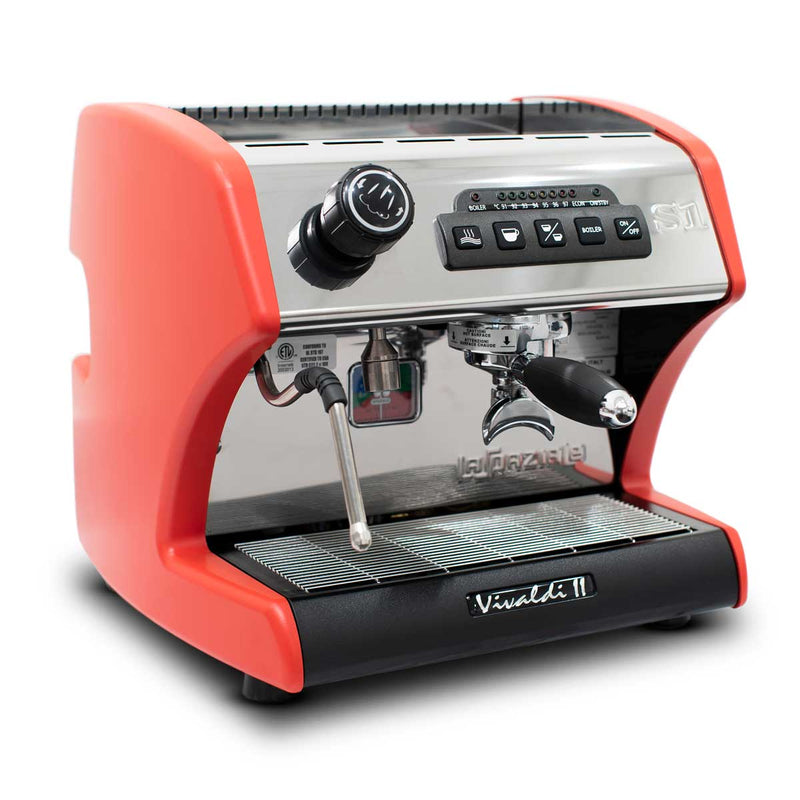 La Spaziale Vivaldi II
The Vivaldi II is a workhorse of an espresso machine and one in which we take great pride in from our time collaborating with La Spaziale. Some thoughtful updates to the original are the new exterior design, programmable passive pre-infusion, dual manometer, and a new LED display that shows your temperature in 1-degree increments. This ultimately will allow you to pull a much more accurate shot of espresso.
Included in Your Order:
FREE Shipping
FREE Two-Year Warranty from Chris' Coffee ($198 Value)
FREE 20A Converter Cord ($14 Value)
Wood Side Panels

Click here to view
Highlights
Barista-worthy beverages can be made right in your kitchen with the S1 Vivaldi Professional Home Espresso machine. Its sleek, compact design sits just 15" high, making it easy to tuck away on your countertops, but it's such an attractive appliance you may just want to make this best-seller a centerpiece.
After a fairly successful first run, we helped La Spaziale redesign the model that ultimately became the S1 Vivaldi II. It received an extremely good reception, even taking home the CoffeeGeek Editor's Choice Award for Best New Product in 2006. But we weren't done making improvements. Below are the new and improved features you can expect to find with this state-of-the-art stainless steel espresso machine:
The La Spaziale Vivaldi II single group, the dual boiler espresso machine is no longer all that "new". After selling more than 500 of the original Vivaldi I machines, reading threads, and talking to our customers about their wish list, we sat down with La Spaziale and made improvements to the Original Vivaldi I and designed the Vivaldi II. We have been selling the Vivaldi II since the beginning of November 2006 and have now sold over 2,000 units. The Vivaldi II was awarded the Coffeegeek Editors Choice Award for Best New Product in 2006. Unlike the original Vivaldi I machine, that we did not have as much to do with its design, the changes to Vivaldi II are all ours. We thought the Vivaldi II was perfect like it was.
You also get peace of mind to know that all warranty work is handled by Chris' Coffee Service, Inc. Our staff of factory trained technicians have over 100 years combined experience servicing all makes and models of commercial espresso machines. They are not only here to service machines but are available to take your phone calls to answer any questions you may have.
Exterior Design
The top cover has been redesigned to eliminate the Plexi cup guard. The new top is much more user friendly; the cup guard could easily break, leaving a gap around the edges. This also lowers the overall height of the machine to just 15". The portafilters that come with the machine have also been redesigned. The machine comes standard with our famous 4 holes 0.9 mm steam tip.
Programmable Passive Pre-Infusion
All machines shipped after June 26th of 2008 have the capability to program Passive Pre Infusion anywhere from 1 to 8 seconds. This is the same type of pre-infusion used on some of the most expensive machines on the market. It differs from pre-infusion on an E61 machine in so much as you control the time of the pre-infusion as well as the amount of water you pre-infuse with. You have no control of the pre-infusion on an E61 Group. You can set this for what works best for you and your coffee. Once you set it where you like it, there is nothing you have to do except press the button to start the brew cycle.
Programmable Offset Differential
This allows you to set the LED temperature setting on the front of the machine to be equal to the temperature being delivered at the group rather than the temperature inside the group boiler. Note: We set it during the bench test of each machine prior to shipping so you don't have to invest in the expensive equipment necessary to perform the tests and setting.
Dual Manometer
It is no longer necessary to purchase a portafilter with a pressure gauge to either check or make adjustments to your pump's output pressure.
0.9mm Four Hole Steam Tip
The Vivaldi II Now comes equipped with the NEW 0.9 mm four hole steam tip as standard: This NEW 0.9 mm four hole steam tip on this machine is one of the easiest to produce excellent micro foam fast and easy even with small quantities of milk.
Decreased Delta
What does that mean? The previous model would need to detect a temperature drop of one degree Celsius before the heater would be activated. The NEW Vivaldi II activates the heater with the detection of a temperature drop of just one half degree Celsius. Simply put, it makes the temperature accuracy that much more precise in the group boiler and enhances the steam boilers' performance.
Updated Temperature Sensing Probe
The new probe is actually submerged directly into the boilers. This probe has proven to be more reliable than the previous style and has a quicker reaction time.
New LED Display
The previous display showed 5-degree increments, from 85 to 120 degrees Celsius. The NEW Vivaldi II displays in 1-degree increments, from 91 to 97 degrees Celsius.
The S1 Vivaldi II can only be used in 15 amp mode but will continue to have a 20 amp plug on the machine, so a converter cord will be included with all Vivaldi machines.
Updates
As of December 2021, the Vivaldi now has bluetooth connectivity built into the software.
Technical Notes
Redesigned top cover
Group boiler (0.45 liter) 


Steam boiler (2.5 liter) 

Steam tip with 4 smaller 0.9 mm holes
Dual boiler
Programmable passive pre-infusion
Programmable offset differential
Swivel stainless steel steam arm
Direct plumbed

Rotary pump
Volumetric dosing, adjustable through the touchpad
One degree group temperature adjustability, indicated by LED display
Group temperature adjustable through the touchpad
Electronic boiler refill
Built-in safety thermostat
Semi-automatic hot water delivery
Manual steam valve
Fault diagnosis alarms
Dual manometer
5 ft braided water line with 3/8" John Guest fitting (accepts 3/8" JG tubing)
15 amp / 110 volts
2 1/2" clearance between the drip tray and the portafilter
Programmable passive pre-infusion from 1 to 8 seconds
Programmable offset differential
Dual Manometer
Optional 7-day timer
0.9 mm four hole steam tip is standard
More precise temperature accuracy
More reliable temperature sensing probe
New LED Display
Included with the Vivaldi II
1 single spouted portafilter with insert basket
1 double spouted portafilter with insert basket
1 rubber back flush disk
1 metal wire brush
1 group gasket
1 shower screen removal tool
1 braided water line
We fulfill orders Monday through Friday from our warehouse in Latham, NY. Orders may take anywhere from 1-3 business days to be fully processed and shipped out. We use USPS or UPS as our preferred carriers. Orders over $50 are eligible for FREE shipping within the contiguous U.S., and we reserve the right to select which carrier to use based on cost and speed in which the package will arrive to the final destination.
Orders over $250 will require a signature for delivery.
If however, you would like to waive this additional insurance,
please fill out the form here
and by doing so you agree to the terms and conditions contained within. Please save all packaging for any future reasons for shipping including returns, exchanges, and repairs. All exchanges & returns must be recieved within 30 days of the ship date. A return can be initiated by contacting a Chris' Coffee customer service representative
here
.
Commercial equipment & coffee are NOT eligible for returns or exchanges.
Read
Full Shipping Policies
&
Full Refund Policy Here
.
Please Note:
Chris' Coffee will not be responsible for any delivery delays due to unforeseen circumstances outside our reasonable control such as delays due to severe weather, natural disasters, strikes, etc.
For any questions or concerns please email
support@chriscoffee.com
| Dimensions | |
| --- | --- |
| Height | 15.1 in. |
| Width | 16.3 in. |
| Depth | 16.3 in. |
| Cup Clearance | 5.375 in. |
| Weight | 62 lbs. |
| | |
| Electrical | |
| Voltage | 110 V |
| Amperage | 15 A |
| Wattage | 1250 / 800 W |
| Outlet Requirements | 60 Hz / 110 V (Some Exceptions Apply) |
| | |
| Other Specifications | |
| Boiler(s) Material | Copper / Brass |
| Boiler Size | .45 / 2.5 L |
| Certifications | ETL / NSF / UL |
| Reservoir Size | NA |
Download Parts Breakdown