.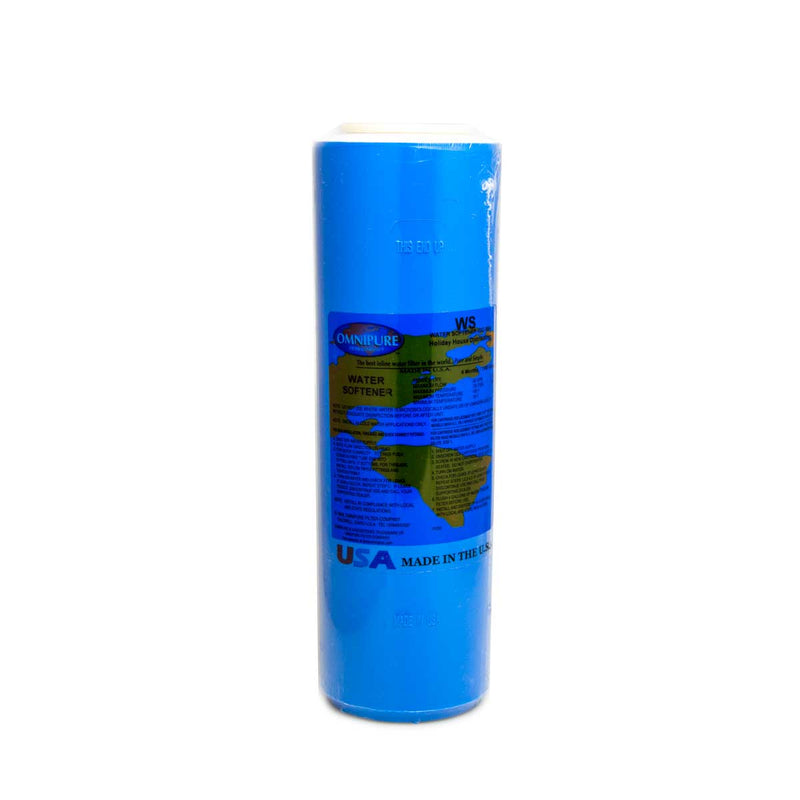 Overview
This 15,000 PPM cat-ion softener cartridge is a generic 10". Simply put, it will fit any standard 10" filter housing. This cartridge is rated at 15,000 PPM of softening capability or 862 grains per gallon. What this means is that if your water hardness tests out to be 10 grains of hardness per gallon, this cartridge will soften approximately 86 gallons of water before needing a replacement
Don't make the mistake of buying a filter system that locks you into a specific brand of filter or softener cartridge. Most name brand filter systems require you to use their replacement cartridges because they are the only ones that will fit the housing.
This is the replacement softener cartridge for the Softening & Filtration System we carry online.
This softener should never be installed directly in-line before your espresso machine. You should always install a carbon filter after the softener! The carbon block filter does a few things: it assures that none of the softener resin gets into your machine, it filters out many other particulates and contaminants in your water, and it removes particles that contribute towards odor or off-tastes in the water.
| | | |
| --- | --- | --- |
|  Service Life | 6 Months | 1300 Grains |
| MAXIMUM FLOW | 0.50 GPM | (1.90 LPM) |
| MAXIMUM PRESSURE | 125 PSIG | (8.6 bar) |
| MAXIMUM TEMPERATURE | 100 F | (38 C) |
| MINIMUM TEMPERATURE | 35 F | (2 C) |
We fulfill orders Monday through Friday from our warehouse in Latham, NY. Orders may take anywhere from 1-3 business days to be fully processed and shipped out. We use USPS or UPS as our preferred carriers. Orders over $50 are eligible for FREE shipping within the contiguous U.S., and we reserve the right to select which carrier to use based on cost and speed in which the package will arrive to the final destination.
Orders over $250 will require a signature for delivery.
If however, you would like to waive this additional insurance,
please fill out the form here
and by doing so you agree to the terms and conditions contained within. Please save all packaging for any future reasons for shipping including returns, exchanges, and repairs. All exchanges & returns must be recieved within 30 days of the ship date. A return can be initiated by contacting a Chris' Coffee customer service representative
here
.
Commercial equipment & coffee are NOT eligible for returns or exchanges.
Read
Full Shipping Policies
&
Full Refund Policy Here
.
Please Note:
Chris' Coffee will not be responsible for any delivery delays due to unforeseen circumstances outside our reasonable control such as delays due to severe weather, natural disasters, strikes, etc.
For any questions or concerns please email
support@chriscoffee.com