.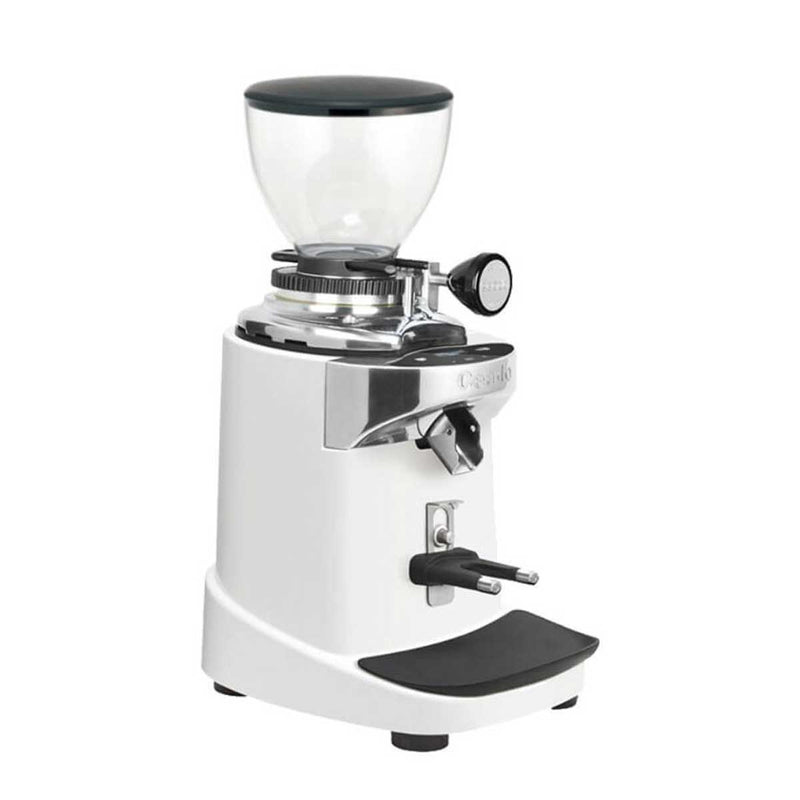 Reason for return
Black: N/A
White: N/A boxes arrived damaged from Italy. Grinders are completely fine.
SN: 105023 & 105024
Steady Lock Grinder
Unique to Ceado the steady lock grinding system ensures that under any condition your Ceado burr grinder maintains a consistent distance between the burrs. The steady lock system improves consistency and eliminates one variable in your quest towards the perfect espresso.
Quick Set Revolution
As any home user knows, dialing in your grinder is imperative to your recipe. With the revolutionary infinitesimal grinding adjustment, Ceado has pioneered it makes it even easier to get the exact particle size for each brew method. The more straightforward grinding adjustment makes it incredibly easy, faster, and provide a more accurate result with the quick set revolution on your E37 grinder.
Easy Service
Maintaining your E37 family grinder is incredibly easy. The quick service, coupled with the anti-clogging system, make it easy for anyone to perform maintenance on your Ceado. Easy access burrs make your cleaning and maintenance more straightforward and less expensive with less time and money invested.
Hands Free On/Off
No matter what portafilter you have, included bottomless/naked models, with the standard portafilter catch leaves your hands free. The coffee doses can be ground into the filter holder while you perform other steps within your brew process.
New Quick Set Gear Tech (2021)
Ceado has blended its R&D skills with the industrial drawing by EMO design and new tech materials to create the Quick Set Gear Tech. It is a new sturdier, even more efficient and precise system which upgrades the previous Quick Set Gear and it is equipping our on-demand grinders model E37S, SL, T and K.T
The black plastic housing is connected via two screws on the bottom of the upper burr carrier to ensure added protection in shipping.
The top printed disk for the upper burr carrier is not magnetic, it is now a sticker
The trapped doors on these hoppers have a small bump on them in order to keep it opened or closed without sliding all over the place. When you first receive it you will need to use some force in order to move it. We found that pushing and pulling simultaneously works best. 
When you're adjusting your grinder finer you must always have it running so you do not jam the burrs! 
We fulfill orders Monday through Friday from our warehouse in Latham, NY. Orders may take anywhere from 1-3 business days to be fully processed and shipped out. We use USPS or UPS as our preferred carriers. Orders over $50 are eligible for FREE shipping within the contiguous U.S., and we reserve the right to select which carrier to use based on cost and speed in which the package will arrive to the final destination.
Orders over $250 will require a signature for delivery.
If however, you would like to waive this additional insurance,
please fill out the form here
and by doing so you agree to the terms and conditions contained within. Please save all packaging for any future reasons for shipping including returns, exchanges, and repairs. All exchanges & returns must be recieved within 30 days of the ship date. A return can be initiated by contacting a Chris' Coffee customer service representative
here
.
Commercial equipment & coffee are NOT eligible for returns or exchanges.
Read
Full Shipping Policies
&
Full Refund Policy Here
.
Please Note:
Chris' Coffee will not be responsible for any delivery delays due to unforeseen circumstances outside our reasonable control such as delays due to severe weather, natural disasters, strikes, etc.
For any questions or concerns please email
support@chriscoffee.com