.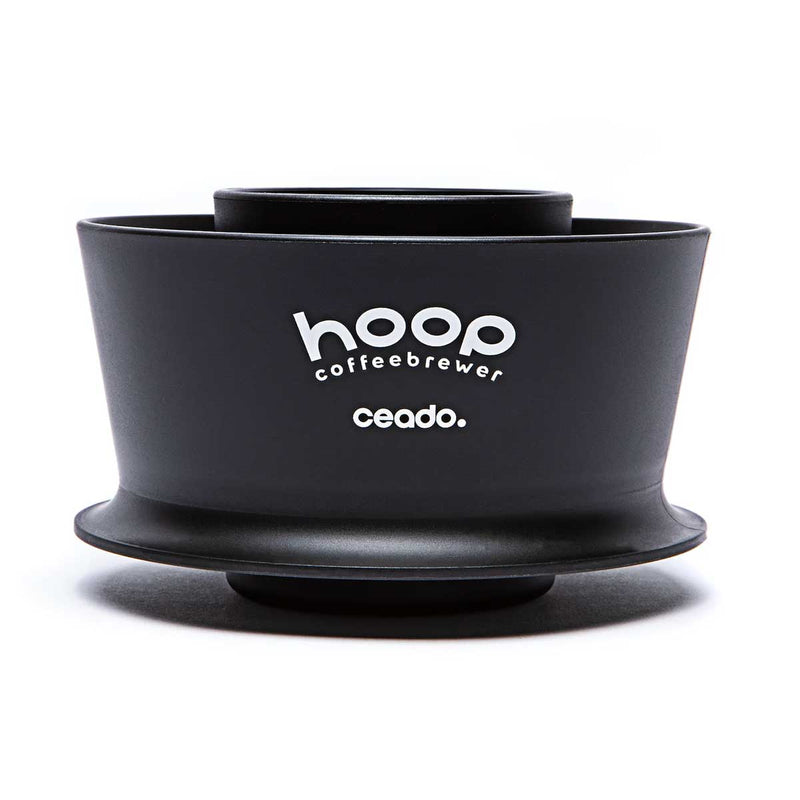 COMING SOON!
Hoop is made of a durable BPA free plastic, easy to clean and long-lasting; a low maintenance material! Hoop is an innovative radial infusion brewer created by Ceado, and the winner of Best New Product Award: Consumer Coffee Preparation & Serving Equipment.
Hoop is a radial infusion brewer and suitable for anyone! Water filters evenly through the coffee bed, in a smooth and regular way, thanks to the side holes at the bottom of the Flow Tower. The flow of the water through the holes guarantees an even extraction: the water filters through the coffee with the same quantity and strength, reaching the paper filter only after completing the journey through coffee.
Hoop allows to achieve a full and high quality extraction, with no effort!
Note: Maximum weight on paper filter is 20g of ground coffee.
To assemble the 3 parts of Hoop together simply insert the paper filter into the Outer Loop and secure the Flow Tower to the Outer Loop and here you go! Put the paper filter, wet it, add coffee and pour water. Hoop will do the rest! Hoop is accessible to everyone who wants to experience drinking a high quality coffee with no need for specific skills or knowledge.
Hoop is designed to make cleaning easier.
At the end of the extraction, to remove the paper filter and coffee, just slightly unscrew the Flow Tower from the Outer Loop and the paper filter will be easily ejected! All Hoop elements are easy to take apart and to wash, with water or in the dishwasher. Hoop wants you to experiment, to combine and to set your own rules, according on your own taste!
Specifications
Net weight: 165 g
Gross weight: 260g
Dimensions: 13,2 x 8,4 cm
We fulfill orders Monday through Friday from our warehouse in Latham, NY. Orders may take anywhere from 1-3 business days to be fully processed and shipped out. We use USPS or UPS as our preferred carriers. Orders over $50 are eligible for FREE shipping within the contiguous U.S., and we reserve the right to select which carrier to use based on cost and speed in which the package will arrive to the final destination.
Orders over $250 will require a signature for delivery.
If however, you would like to waive this additional insurance,
please fill out the form here
and by doing so you agree to the terms and conditions contained within. Please save all packaging for any future reasons for shipping including returns, exchanges, and repairs. All exchanges & returns must be recieved within 30 days of the ship date. A return can be initiated by contacting a Chris' Coffee customer service representative
here
.
Commercial equipment & coffee are NOT eligible for returns or exchanges.
Read
Full Shipping Policies
&
Full Refund Policy Here
.
Please Note:
Chris' Coffee will not be responsible for any delivery delays due to unforeseen circumstances outside our reasonable control such as delays due to severe weather, natural disasters, strikes, etc.
For any questions or concerns please email
support@chriscoffee.com