.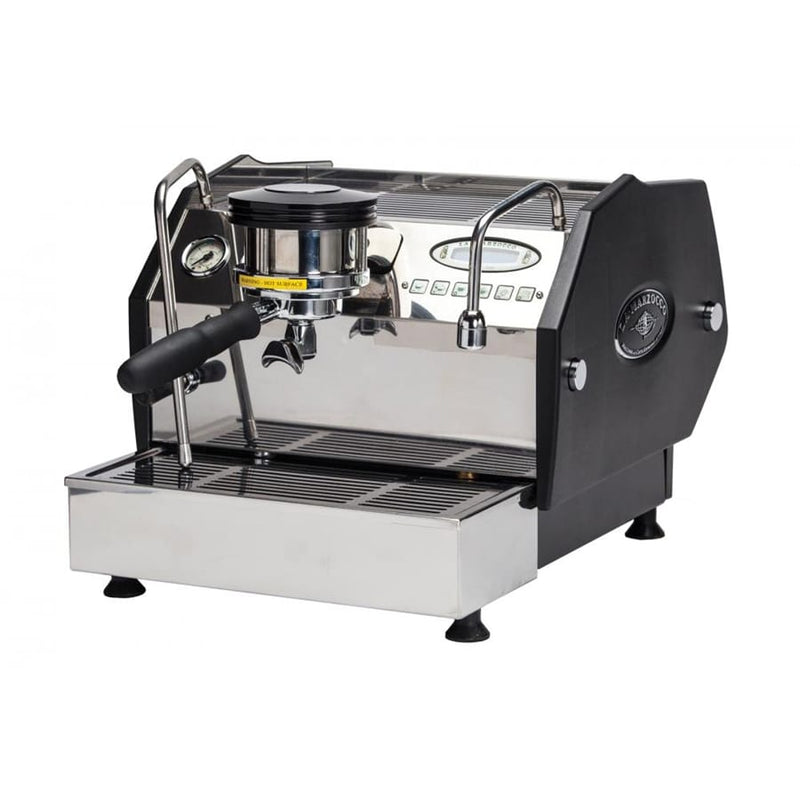 La Marzocco GS3 Volumetric
This version of the GS3 from La Marzocco uses an electronics package that allows for accurate & repeatable shots that can be programmed by water volume. With this machine, it's able to count and measure the precise amount of water that passes through the group head, and can be programmed by a user to dispense that same amount each & every time. Not only is this machine a powerhouse, but its look is customizable from top-to-bottom including the side panels, the portafilter, as well as the group cap.
Included in Your Order:
FREE Shipping
Highlights

This version of the La Marzocco GS/3 Espresso Machine uses an electronics package that allows for precise & repeatable shots that can be programmed by water volume. The GS/3 MP version gives you manual control over the pre-infusion and brewing times with a paddle valve control.
Think consistency when it comes to this GS/3 AV. It uses an electronically controlled espresso system, utilizing the same electronics package as the GB5 AV to actuate the pump and the group's solenoid valve to create the appropriate pressure to extract coffee. The electronic control is what actually enables the volumetric functions of the La Marzocco GS/3 Espresso Machine. Attached to the cold water side of the boiler is a small wheel (flow meter) that spins when water passes through. The AV is able to count and measure the precise amount of water that passes through the group head and can be programmed by a user to dispense that same amount each time.
The AV also has a few more bits of functionality thanks to the electronics. 1st - the ability to program pre-infusion times into each button. The machine allows you to pre-infusion for 4 seconds, rest for 5 seconds, and then begin brewing. Whether plumbed in or not, pre-infusion is accomplished by quickly engaging the pump for 1-5 seconds (adjustable for each AV preset), then disengaging it for 1-5 seconds, then engaging the pump for brewing, which is able to replicate a smooth pre-infusion pressure cure." - La Marzocco Home
Cool Touch Steam Wand
The cool touch steam wand has changed to improve both convenience and steaming power. It has been replaced from Teflon tubing to a double-walled steel cool-touch wand. This combines the performance of the Pro Steam wand with the convenience of the cool touch wand. With this change, the Pro Steam wand option will no longer be an option on the GS3. This will also be standard on the GS3 AV model.
The La Marzocco GS3 is highly customizable, allowing you to change out nearly everything, from the side panels to the portafilter to the group cap. Contact us today to see the many optional accessories to meet your tastes.
Technical Notes
Water reservoir or plumb-in options
Compact design with a small footprint
Ability to program the temperature in 0.1° F increments
System that pre-heats brew water
Programmable pre-infusion
Clear LCD display
Comes with a variety of accessories
3 3/4" clearance between the drip tray and the portafilter
BPA Free plastic reservoir 
NEW
 

Connected Machine

Control your GS3 with the NEW La Marzocco Home app for Android and iOS devices. Using the application you can control many of the integral operations of your Linea Mini dual boiler's capabilities.
Remote ability to turn the machine on or off

Creation of an on/off schedule

Boiler temperature status and control

Enabling and setting pre-brewing on/off times

Standby mode after (x) minutes of non use

Machine Stats & Total Shot Counter

Setting of auto-volumetrics on the GS3 by number of "pulses"
NOTE: These new features and app started with serial number machines GS012984 
For those of you with serial number machines prior to GS012984 there will be the ability to upgrade your board in the near future. With the current pandemic situation we can not say exactly when until the factories open back up in Italy. We will be notifying all the people that purchased a GS3 from us as soon as the boards become available.  
Included with the GS3 AV
Portafilter Baskets: 7 gram, 14, gram, 17 gram, 21 gram, Blind

 

Standard European La Marzocco Convex Tamper

 

Double & Single Spouted Portafilters

Installation Guide / User Guide

Purocaf Cleaning Solution

 

GS3 Plumb Kit
We fulfill orders Monday through Friday from our warehouse in Latham, NY. Orders may take anywhere from 1-3 business days to be fully processed and shipped out. We use USPS or UPS as our preferred carriers. Orders over $50 are eligible for FREE shipping within the contiguous U.S., and we reserve the right to select which carrier to use based on cost and speed in which the package will arrive to the final destination.
Orders over $250 will require a signature for delivery.
If however, you would like to waive this additional insurance,
please fill out the form here
and by doing so you agree to the terms and conditions contained within. Please save all packaging for any future reasons for shipping including returns, exchanges, and repairs. All exchanges & returns must be recieved within 30 days of the ship date. A return can be initiated by contacting a Chris' Coffee customer service representative
here
.
Commercial equipment & coffee are NOT eligible for returns or exchanges.
Read
Full Shipping Policies
&
Full Refund Policy Here
.
Please Note:
Chris' Coffee will not be responsible for any delivery delays due to unforeseen circumstances outside our reasonable control such as delays due to severe weather, natural disasters, strikes, etc.
For any questions or concerns please email
support@chriscoffee.com
| Dimensions | |
| --- | --- |
| Height | 14 in. |
| Width | 16 in. |
| Depth | 21 in. |
| Cup Clearance | 6 in. |
| Weight | 73 lbs. |
| | |
| Electrical | |
| Voltage | 110 V |
| Amperage | 15 A |
| Wattage | 1600 W |
| Outlet Requirements | 60 Hz / 110 V (Some Exceptions Apply) |
| | |
| Other Specifications | |
| Boiler(s) Material | Stainless Steel |
| Boiler Size | 1.5 L C / 3.5 L S |
| Certifications | ETL / NSF / UL |
| Reservoir Size | 3.5 L |
Download Parts Breakdown