.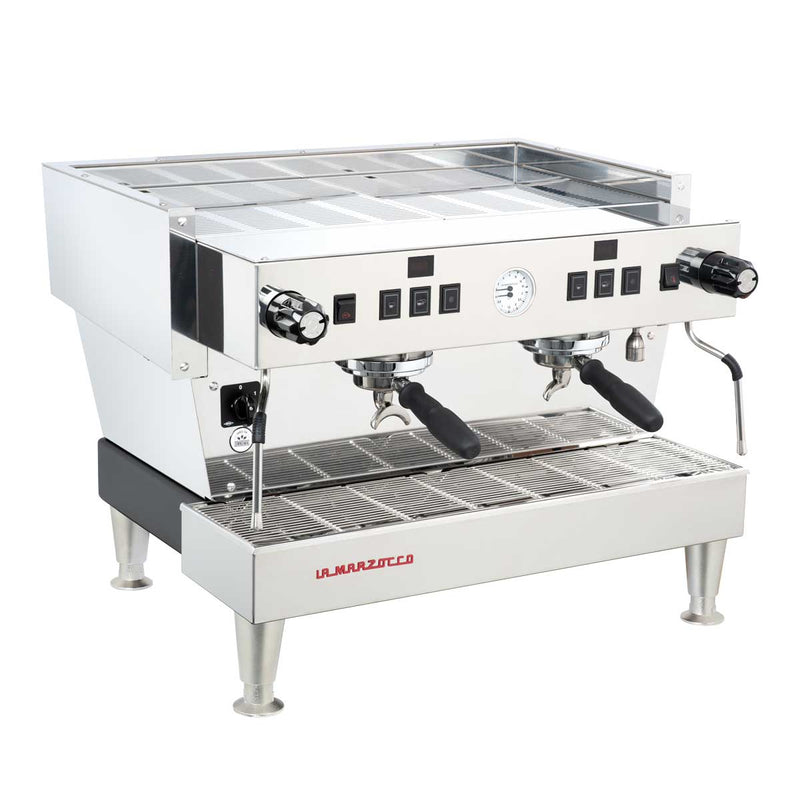 Highlights

The clean lines and simple charm of the Linea occupy many of the cafes, roasteries, and chains whose names have defined the industry.
The Linea is the classic La Marzocco machine that has supported the development of the specialty coffee industry since 1988.
A tried and true machine, the Linea performs reliably in high-volume settings and is perfect for your new cafe, bar, or restaurant.
Features

Dual boiler system
Ensure unsurpassed thermal stability, shot after shot.
Saturated group design
Separate boilers optimize espresso brewing and steam production.
PID temperature controller
Electronic, algorithmic control of the espresso brewing temperature (+/- 0.5°C).
Insulated boilers
Reduce energy consumption while contributing to temperature stability.
Custom color available
Customizable colors based on the RAL color system on request. * special order
Integrated shot timer (AV)
built- in digital shot timers display the extraction time.

1/2 turn steam valve
Steam valve fully opens in 1/2 turn, requiring less movement from the barista to steam.
Pro app compatible
Electronic board that provides native connectivity with the La Marzocco Pro App
Certifications
UL-197, NSF-8
**Please take note of photo of plug that is attached to this machine**
specifications
1grp
2grp
3grp
4grp
Height (in)
20.5
20.5
20.5
20.5
Width (in)
20
28
37
46
Depth (in)
23
23
23
23
Weight (lbs)
90
130
164
236
Voltage (VAC)
200 single / 3 phase
220 single / 3 phase
–
200 single / 3 phase
220 single / 3 phase
380 3 phase
200 single / 3 phase
220 single / 3 phase
380 3 phase
200 single / 3 phase
220 single / 3 phase
380 3 phase

Wattage Elements

2500
4600
6100
8000

AMPS


20
30
50
50
Coffee boiler 

(L)

1.8
3.4
5
6.8
Steam boiler 

(L)

3.5
7
11
15
We fulfill orders Monday through Friday from our warehouse in Latham, NY. Orders may take anywhere from 1-3 business days to be fully processed and shipped out. We use USPS or UPS as our preferred carriers. Orders over $50 are eligible for FREE shipping within the contiguous U.S., and we reserve the right to select which carrier to use based on cost and speed in which the package will arrive to the final destination.
Orders over $250 will require a signature for delivery.
If however, you would like to waive this additional insurance,
please fill out the form here
and by doing so you agree to the terms and conditions contained within. Please save all packaging for any future reasons for shipping including returns, exchanges, and repairs. All exchanges & returns must be recieved within 30 days of the ship date. A return can be initiated by contacting a Chris' Coffee customer service representative
here
.
Commercial equipment & coffee are NOT eligible for returns or exchanges.
Read
Full Shipping Policies
&
Full Refund Policy Here
.
Please Note:
Chris' Coffee will not be responsible for any delivery delays due to unforeseen circumstances outside our reasonable control such as delays due to severe weather, natural disasters, strikes, etc.
For any questions or concerns please email
support@chriscoffee.com
Commercial Dimensions
2 GROUP
3 GROUP
Height
20.5 in.
20.5 in.
Width
28 in.
37 in.
Depth
23 in.
23 in.
Weight
130 lbs.
164 lbs.
Electrical
Voltage
200 single / 3 phase
220 single / 3 phase
380 3 phase
200 single / 3 phase
220 single / 3 phase
380 3 phase
Wattage
4600 W
6100 W
Amps
30 A
50 A
Other Specifications
Boiler(s) Material
NA
NA
Coffee Boiler Size
3.4 L
5 L
Steam Boiler Size
7 L
11 L
Certifications
UL, SA, NSF/ANSI Std.4
UL, SA, NSF/ANSI Std.4
Download Parts Breakdown