.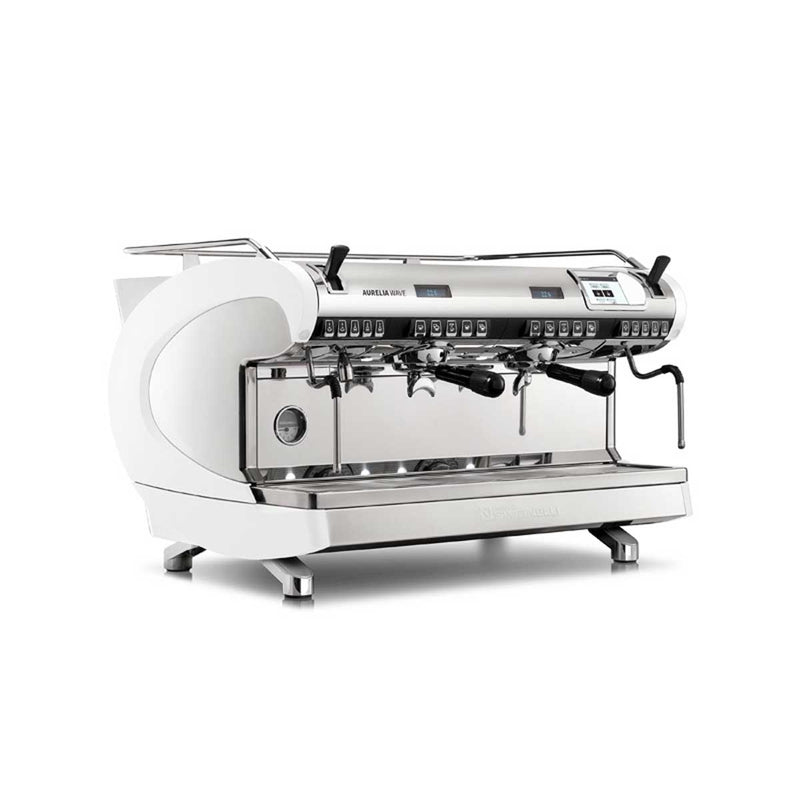 Highlights

Advanced Bold Revolutionary
Suitable for: High quality coffee shops, high volume locations, demanding professionals, barista competitors, specialty coffee shops.
The Aurelia Wave T3 is the ideal espresso machine for those looking for unprecedented performance and reliability. T3 technology gives the barista unheard-of control of water temperature throughout the machine.
Wave T3:
The Aurelia Wave T3 builds off our old Aurelia II T3 and digital machine adding a number of improvements. Our latest technology; Pulse Jet, gives even more control to he user allowing them to stop and start the flow of coffee at different/customizable intervals allowing the coffee to bloom in a number of ways. T3 technology gives the barista complete control over the temp of the primary boiler, the coffee groups' boiler, and the head of each group. While the high resolution touch screen continuously talks to these components for quick and easy adjustments. The Independent group head timers display shows independent shots simultaneously, eliminating the need for external timers. This machine also comes standard with many of the same features as the digit model, including, automatic purging, automated cleaning, boiler pressure program, energy saving settings, and much more.
Overview
Wave: The identity of the new Aurelia. Its name not only represents its unique looks but also the continually movement of espresso technology.

First and foremost is the Aurelia Wave Smart Water Technology (optional). For the first time in espresso history this machine can detecting basic water parameters and warn the operator when the quality changes. Being that water makes up the mass majority of espresso, and espresso equipment issues this acts as a safeguard for all operators reducing long-term costs.

We didn't stop there though building off the success of our SIS (soft infusion system) we have developed a new Pulse Jet Technology that allows the operator to create extraction profiles, all of which can be adjusted with our Remote Control Interface. This interface can control extraction, preparation, dispensing, and cleaning. While also allowing the operator to access to hourly, daily, weekly, and monthly statistics.
All of this in combination with the Waves focus on detail, Energy Consumption/Environmental impact, and Ergonomics earns its place next to the Aurelia II, raising the bar of what an espresso machine can do once again.
We fulfill orders Monday through Friday from our warehouse in Latham, NY. Orders may take anywhere from 1-3 business days to be fully processed and shipped out. We use USPS or UPS as our preferred carriers. Orders over $50 are eligible for FREE shipping within the contiguous U.S., and we reserve the right to select which carrier to use based on cost and speed in which the package will arrive to the final destination.
Orders over $250 will require a signature for delivery.
If however, you would like to waive this additional insurance,
please fill out the form here
and by doing so you agree to the terms and conditions contained within. Please save all packaging for any future reasons for shipping including returns, exchanges, and repairs. All exchanges & returns must be recieved within 30 days of the ship date. A return can be initiated by contacting a Chris' Coffee customer service representative
here
.
Commercial equipment & coffee are NOT eligible for returns or exchanges.
Read
Full Shipping Policies
&
Full Refund Policy Here
.
Please Note:
Chris' Coffee will not be responsible for any delivery delays due to unforeseen circumstances outside our reasonable control such as delays due to severe weather, natural disasters, strikes, etc.
For any questions or concerns please email
support@chriscoffee.com