.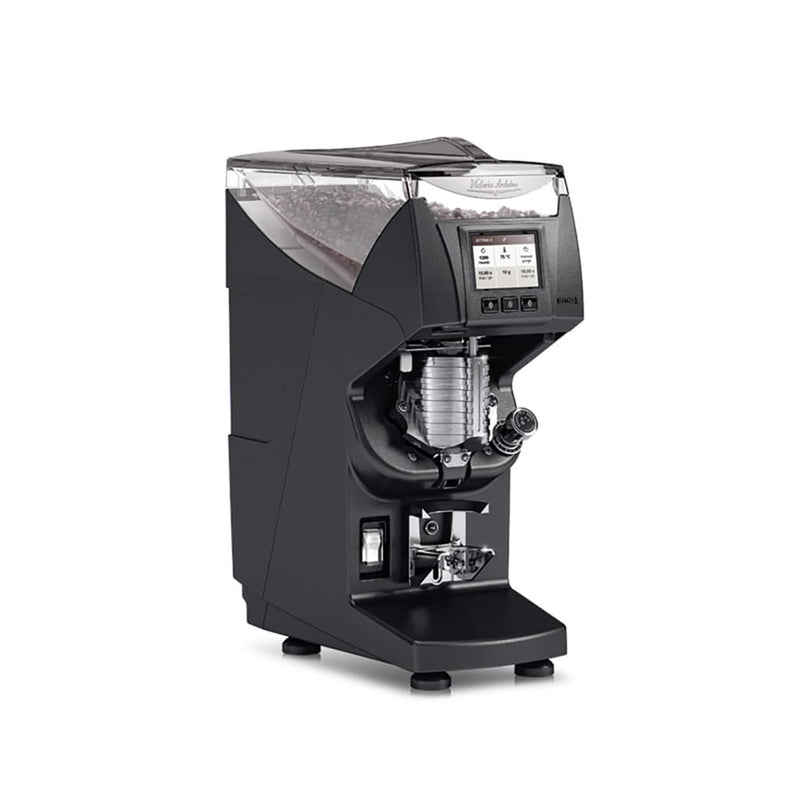 Victoria Arduino Mythos II
The Mythos II's unique design allows for each of your well-crafted roasts' fine nuances to shine. With its slim 17-inch width, and relocation of the Clima Pro 2.0 System's ventilation to the back of the grinder, the Mythos grinder can be lined up side-by-side with each grinder perfectly dialed in for each of your specialty roasts. There's a reason why you'll see this grinder in coffee shops all over the world.
Overview
Workflow and counter space is paramount to both your bottom line and the overall aesthetic of your café. The Mythos II's unique design allows for each of your well-crafted roasts' fine nuances to shine. With its slim 17-inch width and relocation of the Clima Pro 2.0 System's ventilation to the back of the grinder – Mythos grinder can be lined up side-by-side with each grinder perfectly dialed in for each of your specialty roasts. There's a reason why coffee shops around the world use Mythos grinder. It's an upgrade your espresso machine deserves. 
Full Aluminum Body
Empower Mythos to do some marketing for you with its rear blackboard panel which communicates what coffees are being served or customize your Mythos II with the brand name of your bar or chain.
Increased Productivity
Shrink lines with Victoria Arduino with the patented propeller located upstream. This unique system applied consistent pressure on coffee traveling from the nearly 4.5-pound hopper through the grinding chamber. This consistent pressure shrinks the grinding time per dose and increases your service speed without touching the speed of your Mythos 2's motor speed.
Weight-Based Dosing
For increased consistency – weight-based dosing is the rule for nearly every barista. From bean to finished product recipes are dependent upon the accurate weight of each element. The Gravimetric Controlled Dosing of the Mythos II Gravimetric coffee grinder not only accurately doses ground coffee by weight in real time but also reduces coffee waste. When the granulometry setting (grind) changes the dose automatically makes the appropriate adjustments. The Gravimetric controlled dosing of the Victoria Arduino grinder can be bypassed for timed dosing at any time utilizing the touch screen LCD display.
Variable Speed Motor
The adjustment of the grinding motor's RPM or speed is a standard on the Mythos II Gravimetric and the Mythos II Premium. Motor speed's effect on cup quality and nuances within it have been thoroughly tested by Victoria Arduino's team working on the Mythos line of coffee grinders. With a reduction in speed all the way down to 600 RPM which can be increased to 1200 RPM it gives the user one additional variable to experiment with their coffees.
Through the testing done by the Victoria Arduino team the same coffee at a reduced speed experienced more body and less fine nuances in the cup, conversely with increased motor speed less body and greater nuanced flavor. The ability to balance these variables across such a large spectrum with Mythos II is one of it's greatest strengths.
Temperature Control
One of the major factors on cup quality and flavor is temperature from roast to brew. The grind chamber's internal temperature of a high-volume commercial coffee grinder on your bar is no different. With the Mythos II's Clima Pro 2.0 system you're creating a microclimate within your grinding chamber giving you, the barista, ultimate control of grinding temperature. The control provided to the barista with the Clima Pro 2.0 system greatly improves the predictability of flavor in high-volume cafes reducing temperature fluctuations. Mythos grinder is a quiet coffee grinder that has a heating and cooling system and temperature-controlled burrs.
A new feature of the Mythos II is the location of the dual-fanned exhaust system allowing for quicker motor cooling has been relocated to the rear of the coffee grinder. Thus, allowing for side-by-side placement of the Mythos coffee grinder without compromising the Clima Pro 2.0 system. This grinder allows you to adjust the temp. of the grinding chamber between 30 and 33 degrees celsius.
Micrometric Grind Adjustment
Easily make minute adjustments to your granulometry (grind) instantly at any point in the process of grinding. With the Gravimetric Dosing System as you make micrometric adjustments, grind settings are perfect and your dose is unaffected.
85mm Titanium Burrs
Mythos 2 comes standard with titanium burrs. The 85mm burrs last two-times longer than normal steel burrs and have a 3500 lb grinding capacity. Version 2 of the Mythos grinder makes it even easier to replace the burrs after their 3500-pound lifespan with burr access with only 2 screws. This also helps to prevent misalignment of the 85mm titanium burrs that are on a 15-degree angle. This angle is also a contributor to the nearly zero retention of the Mythos 2. In addition to the angled burrs they're placed less than 0.5" from the chute. The lack of retention not only contributes to coffee freshness but also your bottom line, less retention – less coffee waste.
Clump Crusher
The first thing any seasoned barista notices about the line of Mythos espresso grinders is their virtually clump-free and fluffy grind. This is achieved with unique, and easily-replaced, clump crusher tech. The chaffer or clump crusher is placed directly above the spout, it's "three fingers" aid in the Mythos' impressive particle size distribution.

Portafilter Holder
A barista's ability to multitask is paramount to shorter lines and increased revenue. With the hands-free portafilter holder – free up your baristas to operate other equipment while Mythos does its job for you.
We fulfill orders Monday through Friday from our warehouse in Latham, NY. Orders may take anywhere from 1-3 business days to be fully processed and shipped out. We use USPS or UPS as our preferred carriers. Orders over $50 are eligible for FREE shipping within the contiguous U.S., and we reserve the right to select which carrier to use based on cost and speed in which the package will arrive to the final destination.
Orders over $250 will require a signature for delivery.
If however, you would like to waive this additional insurance,
please fill out the form here
and by doing so you agree to the terms and conditions contained within. Please save all packaging for any future reasons for shipping including returns, exchanges, and repairs. All exchanges & returns must be recieved within 30 days of the ship date. A return can be initiated by contacting a Chris' Coffee customer service representative
here
.
Commercial equipment & coffee are NOT eligible for returns or exchanges.
Read
Full Shipping Policies
&
Full Refund Policy Here
.
Please Note:
Chris' Coffee will not be responsible for any delivery delays due to unforeseen circumstances outside our reasonable control such as delays due to severe weather, natural disasters, strikes, etc.
For any questions or concerns please email
support@chriscoffee.com
| Dimensions | |
| --- | --- |
| Height | 21 in. |
| Width | 8 in. |
| Depth | 17 in. |
| Hopper Capacity | 2000 g |
| Weight | 53 lbs. |
| | |
| Grinding | |
| Burr Size | 85 mm |
| Burr Material | Titanium |
| Flat or Conical | Flat |
| Grind Adjustment Type | Worm Gear Adjustment |
| Average Output | 2-4 g/s |
| Dose Setting(s) | 9 |
| | |
| Other Specifications | |
| Motor Speed | 600-1200 RPM |
| Power | 300-550 W |
| Outlet Rating | 60Hz / 110V (Some Exceptions Apply) |
| Equipped with Fan | Yes |
| Start | Portafilter, Pulse Button |
Download Parts Breakdown