.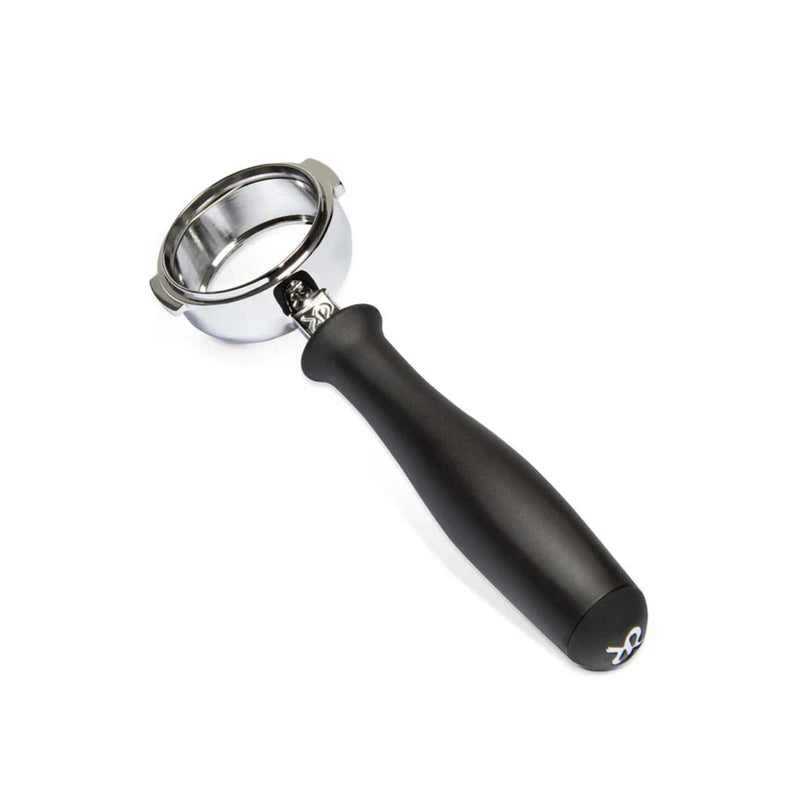 Overview
Weight: 1.05 lbs
Insert basket: NO LONGER INCLUDED AS OF 2023 PER RANCILIO
Rancilio's new product code: 10071051R
An ergonomically designed bottomless portafilter by Rancilio. The Bottomless Portafilter for the Rancilio Silvia comes with Rancilio "RR" logo and comes directly from the manufacturer.


What is a Bottomless Portafilter & What's it Used For?

Bottomless portafilters are used as a training tool. It will provide you with immediate feedback and can see if "channeling" occurs right away. Channeling is the rapid passage of water through fractures in the coffee puck, which produces a thinner, under-extracted espresso. When it occurs, you'll often see sudden appearances of blond streaks in the stream of espresso; sometimes the puck will even have pencil lead-sized holes where channeling occurred.

The Rancilio Erogonomic Bottomless Portafilter fits all of the Rancilio commercial machines, the Silvia, as well as other E61 group machines.
Some Examples Include
Quick Mill Andreja Premium, Anita, Vetrano, Alexia and Silvano. Izzo Alex and Alex Duetto- Isomac Millenium, Tea, Rituale, Relax, Zaffiro, and Amica. Expobar Office Control, Office Pulser, Office Lever, and Brewtus. ECM Giotto, Cellini, Rocket, and Giotto Premium - Grimac and Grimac Valentina.
We fulfill orders Monday through Friday from our warehouse in Latham, NY. Orders may take anywhere from 1-3 business days to be fully processed and shipped out. We use USPS or UPS as our preferred carriers. Orders over $50 are eligible for FREE shipping within the contiguous U.S., and we reserve the right to select which carrier to use based on cost and speed in which the package will arrive to the final destination.
Orders over $250 will require a signature for delivery.
If however, you would like to waive this additional insurance,
please fill out the form here
and by doing so you agree to the terms and conditions contained within. Please save all packaging for any future reasons for shipping including returns, exchanges, and repairs. All exchanges & returns must be recieved within 30 days of the ship date. A return can be initiated by contacting a Chris' Coffee customer service representative
here
.
Commercial equipment & coffee are NOT eligible for returns or exchanges.
Read
Full Shipping Policies
&
Full Refund Policy Here
.
Please Note:
Chris' Coffee will not be responsible for any delivery delays due to unforeseen circumstances outside our reasonable control such as delays due to severe weather, natural disasters, strikes, etc.
For any questions or concerns please email
support@chriscoffee.com