.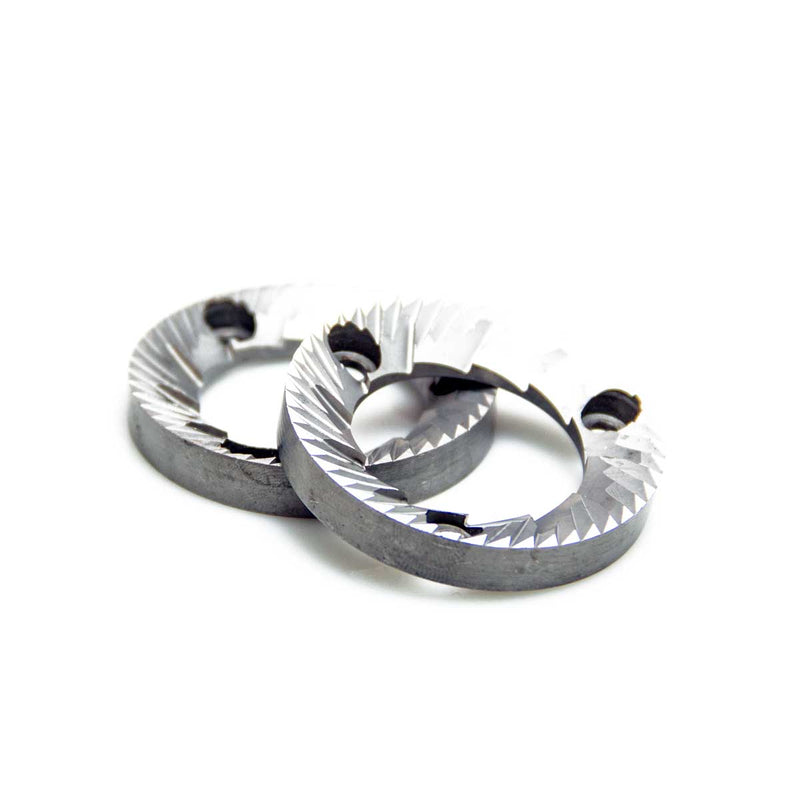 An ever-popular espresso grinder, the Rancilio Rocky is known for its resiliency and longevity. After having your Rancilio Rocky or the MD40 for a number of years it's burrs may become dulled making it more prone to jamming and a less desirable ground coffee quality.
These replacement burrs for the Rancilio Rocky and Rancilio MD40 are genuine OEM replacement parts. Model number 69000032 is sold in a set so you'll have everything you need to replace your burrs.
Replacing the Burrs On Your Rancilio Rocky

Unplug your coffee grinder
Remove the bean hopper lid
Now with the hopper lid removed, observe the three screws which hold the finger guard in place. Loosen and remove the three finger guard screws. Remove the hopper from your grinder.
Now looking into the throat of the grinder you'll see a large brass part, that is the upper burr carrier. Unscrew the upper burr carrier by turning it counter-clockwise, lift it out of your coffee grinder.
The upper burr is generally pretty easy to remove. Unscrew the three retaining screws that hold the upper burr to the burr carrier and clean all parts thoroughly including the screws themselves so that they are completely clear of all coffee oil and ground coffee buildup. This will ensure that the replacement upper burr seats properly.
Now that the upper burr carrier and upper burr have been removed and cleaned. We will remove the lower burr which is attached to the motor. This can be a little more difficult to remove due to it being attached to the motor, it will move as you're trying to loosen it.
Remove the three screws on the lower burr carrier, you should be able to lift the carrier out and remove the burr. Repeat the same process we followed with the upper burr carrier being sure that all coffee oils and ground coffee residue have been remove from all surfaces.
Now in reverse of the steps outlined above put everything back together. When you're replacing the hopper, align it so it is somewhere close to the "0" mark on the dial this will help maintain some idea of where you need to start but the number doesn't really matter - it will likely be not near where your grind setting was prior to replacing your Rocky's burrs.
We fulfill orders Monday through Friday from our warehouse in Latham, NY. Orders may take anywhere from 1-3 business days to be fully processed and shipped out. We use USPS or UPS as our preferred carriers. Orders over $50 are eligible for FREE shipping within the contiguous U.S., and we reserve the right to select which carrier to use based on cost and speed in which the package will arrive to the final destination.
Orders over $250 will require a signature for delivery.
If however, you would like to waive this additional insurance,
please fill out the form here
and by doing so you agree to the terms and conditions contained within. Please save all packaging for any future reasons for shipping including returns, exchanges, and repairs. All exchanges & returns must be recieved within 30 days of the ship date. A return can be initiated by contacting a Chris' Coffee customer service representative
here
.
Commercial equipment & coffee are NOT eligible for returns or exchanges.
Read
Full Shipping Policies
&
Full Refund Policy Here
.
Please Note:
Chris' Coffee will not be responsible for any delivery delays due to unforeseen circumstances outside our reasonable control such as delays due to severe weather, natural disasters, strikes, etc.
For any questions or concerns please email
support@chriscoffee.com