.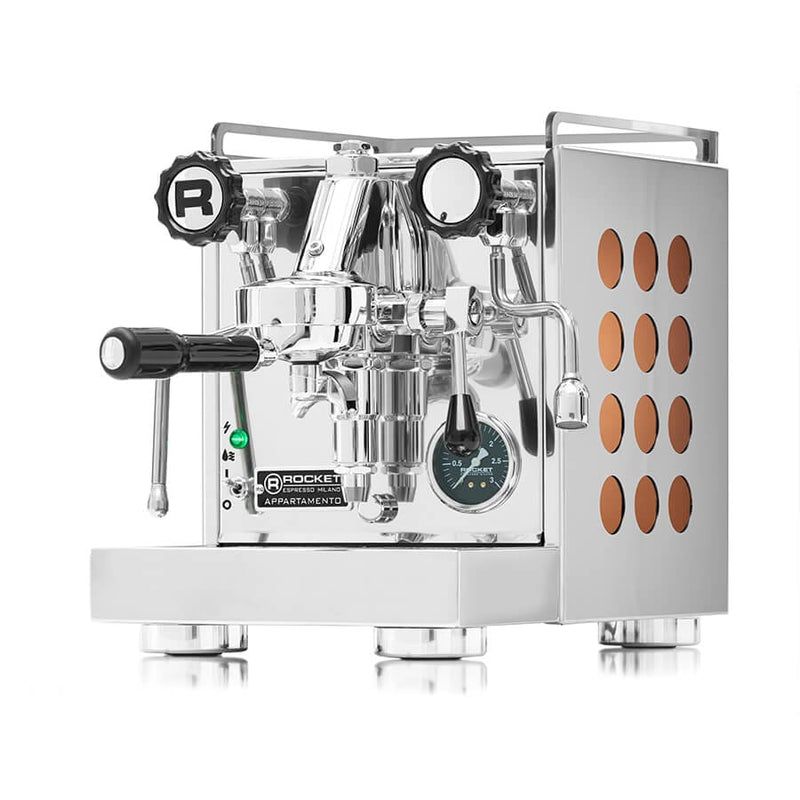 Rocket Espresso Appartamento
Rocket Espresso has been known for years for their flashy and sleek design, with an unwavering obsession in delivering café-quality drinks. Like any E61 group head, you'll get pre-infusion of water, helping to settle the grounds within the bed of coffee. Despite its remarkably small form factor, you get plenty of power from this machine, and can easily make multiple milk-based rinks in a row. You'll love how quiet it is. Rocket Espresso took additional steps to ensure that the vibratory pump's noise is at a minimum. Rest assured, you won't accidentally wake up anyone else in the house if you're an early riser.
Included:
FREE 2-Year Warranty
1x 58mm Metal Tamper
1x Metal Back Flush Disk
Highlights
Rocket Espresso is well known for its attractive home espresso machines where no detail is left untouched. The stainless steel casing with perforations that reveal either copper or white side panels beneath adds an interesting visual element to the Rocket Espresso Appartamento that no other home espresso machine has!
In addition to the unique side panels and stainless steel casing, the Rocket Appartamento saves on height. It does this with large circular feet that give the Appartamento a real presence on your counter without taking up the whole thing! Don't let its apt name fool you into thinking that the Appartamento is a great small start machine. While it might be that to some degree - it packs all of the power that you'd expect out of a quality Italian-made home espresso machine.
E61 Group Head
The professional-grade E61 group head is one of the most popular group configurations on the market. There is a reason why so many manufacturers utilize this tried and tested group head. It's easy to repair, the parts are readily available, and repairs are generally cheap.
With any E61 brew head, you'll get pre-infusion of water that helps settle the grounds within the bed of coffee. This is a mechanical pre-infusion and should not be confused with other more controllable methods of achieving pre-infusion. To add control of pre-infusion and flow you might consider installing an E61 flow control device.
Gauges
Right underneath the brew lever, there is a black boiler pressure gauge that jumps off  the front of the machine. It's not only great looking but it also helps you monitor machine vitals in a really convenient spot on the front of the machine.
No-Burn Wands
Stainless steel hot water and steam wands come with teflon tubing inside which replaces the previously used silicone (effective 2020)
Steaming Milk
The Rocket Appartamento espresso machine is a surprisingly powerful latte and cappuccino machine! As we said, don't be fooled by the small corpus. The steam and hot water wands are fully articulating to make steaming incredibly easy.
What about the steam power though? The steam wand will have you asking it to go maybe a little slower at first! If this is your first prosumer home espresso machine, you might need a little bit more time and less power. With a 1.8 L boiler, there's plenty of steam power to go around. You can easily feather the steam off a bit with the steam knob to give yourself a bit more time to make that perfect micro foam!
Water Tank
The Rocket Appartamento is a tank only, sometimes called a reservoir, home espresso machine. It's a large over two-liter bottom-fed reservoir. The reservoir is accessed from underneath the cup warmer on the top of the machine towards the back. With the water level dipping, you will have easy access to remove and refill extremely easily without the need to push aside any silicone tubing.
Vibratory Pump
The Rocket Appartamento espresso machine has a 52-watt vibratory pump. This is one of the most common pumps across the lines of home espresso machines for its reliability and power. With additional measures to quiet the vibrations of the vibratory pump, Rocket has produced a generally "won't wake the spouse up" sound.
Eco Mode
Now equipped with an Economy (ECO) Mode the Rocket Appartamento espresso machine is even better than ever! Make sure your machine is at the ready with just a lift of a lever. To enable ECO Mode on the Appartamento, there is a simple on and off button on the right bottom-front of the machine toward the front foot nearest to the brew (cam) lever.
When the button is pressed in, your Rocket Appartamento will automatically shut down after 90-minutes or 1.50-hours. To re-engage the heating element i.e. start the machine back up, just lift the brew (cam) lever, and the Appartamento will start right back up!
During bench testing, we will not automatically turn on the ECO Mode. For more information, check the supplemental manual included with your machine.
Joysticks
Looking to swap out the turn style knobs on the machine for the joysticks, but unsure exactly what a joystick is? Click here to take a look!
Included with the Appartamento
1 single spouted portafilter with insert basket
1 double spouted portafilter with insert basket
2 hole steam tip
1 metal 58mm tamper
1 stainless steel back flush disk
1 plastic cup rail
We fulfill orders Monday through Friday from our warehouse in Latham, NY. Orders may take anywhere from 1-3 business days to be fully processed and shipped out. We use USPS or UPS as our preferred carriers. Orders over $50 are eligible for FREE shipping within the contiguous U.S., and we reserve the right to select which carrier to use based on cost and speed in which the package will arrive to the final destination.
Orders over $250 will require a signature for delivery.
If however, you would like to waive this additional insurance,
please fill out the form here
and by doing so you agree to the terms and conditions contained within. Please save all packaging for any future reasons for shipping including returns, exchanges, and repairs. All exchanges & returns must be recieved within 30 days of the ship date. A return can be initiated by contacting a Chris' Coffee customer service representative
here
.
Commercial equipment & coffee are NOT eligible for returns or exchanges.
Read
Full Shipping Policies
&
Full Refund Policy Here
.
Please Note:
Chris' Coffee will not be responsible for any delivery delays due to unforeseen circumstances outside our reasonable control such as delays due to severe weather, natural disasters, strikes, etc.
For any questions or concerns please email
support@chriscoffee.com
| Dimensions | |
| --- | --- |
| Height | 14.17 in. |
| Width | 10.78 in. |
| Depth | 16.73 in. |
| Cup Clearance | 5.5 in. |
| Weight | 44 lbs. |
| | |
| Electrical | |
| Voltage | 110 V |
| Amperage | 15 A |
| Wattage | 1200 W |
| Outlet Requirements | 60 Hz / 110 V (Some Exceptions Apply) |
| | |
| Other Specifications | |
| Boiler(s) Material | Brass |
| Boiler Size | 1.8 L |
| Certifications | None |
| Reservoir Size | 2.3 L |
Download Parts Breakdown