.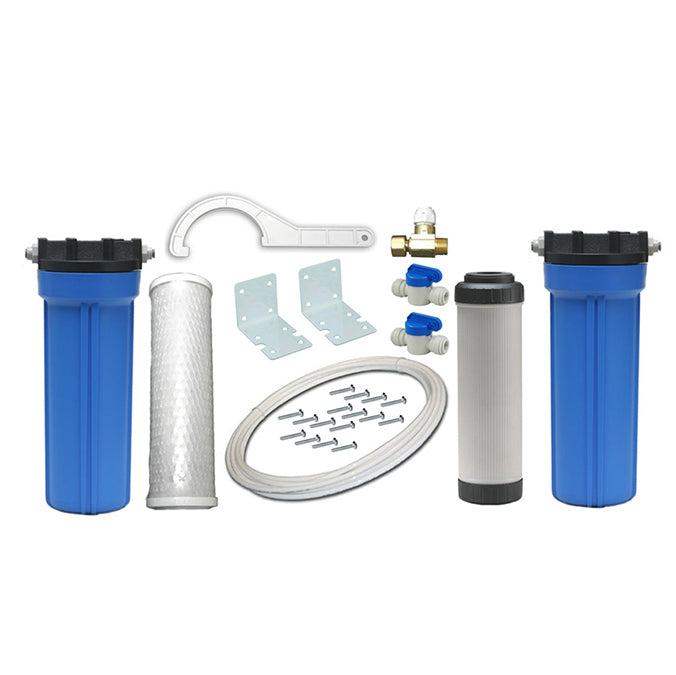 Overview
This combination water softener and filter system contain everything you need to connect your espresso machine to your water source and protect it at the same time from mineral deposits. The filter housings are generic 10", therefore you won't be tied into expensive proprietary replacement cartridge. The carbon filter removes odor and taste and filters to 5-10 microns, and the softener removes 15,000 PPM. The tubing and fittings are John Guest and require no wrenches to install. The best part is no trips to Home Depot; everything you need is here.
Includes the following:
2 10" Filter Housing - Dimensions: 7" Width Clearance x 14" Height Clearance
2 Filter Mounting Bracket
1 Filter Housing Wrench
1 10" Carbon Filter
1 10" Cation Softener 15,000 PPM Rated
2 John Guest 1/4" or 3/8" Ball Valves
4 John Guest Fitting 3/8" PT by 1/4" or 3/8" JG
1 Max Adaptor 3/8" CP by 1/4" or 3/8" JG
15 John Guest 1/4" or 3/8" Tubing 15'
The sequence of components starting from the water source when installing your new water filtration and softening system should be the following:
Max Adaptor
Tubing
Shut-off-Valve
Tubing
Softener Housing
Carbon Filter Housing
Tubing
Shut-off-Valve
Purge Filters
Connection to the Machine
To install the max adaptor, go under your sink and shut the cold water off. Directly behind the shut-off valve you just closed is a 3/8-inch compression fitting, undo it. Attach the max adaptor to where you just disconnected the water line that goes up to your cold-water faucet. Note: You may need to go to Home Depot to complete the next step. Now connect the tubing that comes down from your faucet to the top of the max adaptor. It will require some bending if you have ridged 3/8 pipe. If you can't get it to line up by bending then disconnect it up above at the faucet and go to home depot, they sell several different lengths of flex braided tubing complete with the necessary fittings on both ends. Bring your old one with you to be sure you get the right length.
Now let me tell you something about John Guest Tubing, it's the best. There are two things to be sure you do when using this tubing. Number one when cutting it to the length you want always use a very sharp knife or a razor blade, it is important so as to keep the tubing perfectly round. Note: Never cut the tubing with a pair of side cutters. Second when you want to make a connection male to female be sure you push the tubing in all the way till it bottoms. When you first push it in it will feel as if it is in you will meet some resistance and think it is in all the way, push a little harder and it will go in another 1/8 inch and you will feel it press against a solid surface.
It is important that you install the two shut off valves, one between your source water and the softener housing and the second between the filter housing and your machine. Stop Very Important: Do not connect to your machine until you first purge a gallon or two of water through the filter. This is extremely important; carbon filters have loose carbon dust in them that must be purged out before connecting to your machine. The carbon filter is there to protect your machine but without purging you can cause damage to your machine not covered by warranty.
John Guest Fittings works like Chinese handcuffs, the more pressure the tighter they hold. It is, for this reason, you install the shut-off valves were we do. To disconnect your machine or change your filter you must first release the pressure in the lines, here is how you do that. First, turn the valve off before your filter, now go to your machine and make it call for water, either pull water through the group or from the hot water spigot. Your pump should start running; let it run for no more than 10 seconds. Now shut the valve off between your machine and the Carbon filter. You can now use the wrench provided to loosen the filter housing. To disconnect the tubing from the fitting you pull the small collar on the John Guest fitting towards the fitting and pull the tubing out. If you do not pull the collar back you will never be able to disconnect the tubing from the fitting.
This softener is capable of removing approximately 850 grains of hardness. To get an idea of how many gallons of water it can soften for you, you need to know how many total grains of hardness is in your water. You can do this by calling the water district that supplies your water or by purchasing water hardness test strips on our website or another supplier. Once you know that, divide 850 by the number of grains of hardness in your water to determine how many gallons this filter will soften for your application.
I recommend you change your carbon filter once a year and remember to purge it before reconnecting it to your machine.
Before connecting the water line to your machine, it is important to purge a few gallons of water through the filtration and softening system until your water is clear and clean.
Gallons of Water That Can be Softened Before Recharging

Grains of
Hardness

6

8

10

12

14

16

18

20

22

24

26

10" Softener
Cartridge

143

108

86

72

61

54

48

43

39

36

33
The chart above will give you an estimate of the lifespan of the softening cartridge dependent on your usage and hardness of your water. It is recommended that you test your water for hardness every 3 months until you have a bearing on the lifespan of your softening cartridge and then replace your cartridge at those intervals.
Using a softening cartridge beyond its lifespan can cause a buildup of mineral deposits inside your espresso machine which can cause damage which will not be covered under warranty.
We fulfill orders Monday through Friday from our warehouse in Latham, NY. Orders may take anywhere from 1-3 business days to be fully processed and shipped out. We use USPS or UPS as our preferred carriers. Orders over $50 are eligible for FREE shipping within the contiguous U.S., and we reserve the right to select which carrier to use based on cost and speed in which the package will arrive to the final destination.
Orders over $250 will require a signature for delivery.
If however, you would like to waive this additional insurance,
please fill out the form here
and by doing so you agree to the terms and conditions contained within. Please save all packaging for any future reasons for shipping including returns, exchanges, and repairs. All exchanges & returns must be recieved within 30 days of the ship date. A return can be initiated by contacting a Chris' Coffee customer service representative
here
.
Commercial equipment & coffee are NOT eligible for returns or exchanges.
Read
Full Shipping Policies
&
Full Refund Policy Here
.
Please Note:
Chris' Coffee will not be responsible for any delivery delays due to unforeseen circumstances outside our reasonable control such as delays due to severe weather, natural disasters, strikes, etc.
For any questions or concerns please email
support@chriscoffee.com