.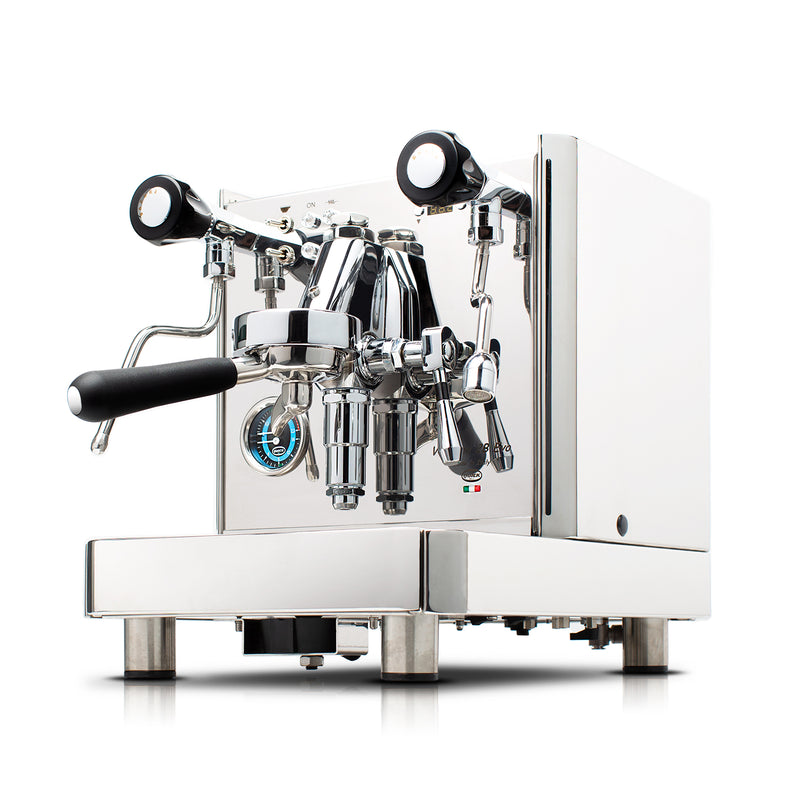 Quick Mill Vetrano 2B Evo
The Quick Mill Vetrano 2B Evo is well suited for the home espresso machine user who is a traditionalist and loves the features of a modern machine. Featuring the latest trends in espresso machines, the Vetrano 2B Evo now comes with large stainless steel boilers, adding even more longevity to your investment. With its rich feature set and the ability to directly plumb & drain, your Vetrano 2B Evo from Quick Mill will never hold you back from producing the best espresso drinks.
Included in Your Order:
FREE Shipping
FREE Two-Year Warranty from Chris' Coffee ($198 Value)
FREE 20A Converter Cord ($14 Value)
Highlights

The Quick Mill Vetrano 2B Evo is well suited for the home espresso machine user who is a traditionalist who loves the features of a modern home machine. Following the latest trends in espresso machines, the Vetrano 2B Evo now has large stainless steel boilers adding even more longevity to your investment. You'd be hard-pressed to find a machine that you'll want to upgrade to with the Vetrano 2B. With its flexibility in features between the ability to use the in-machine water tank or directly plumb and drain, your Quick Mill Vetrano 2B Evo never holds you back from the best drinks.
We worked very closely with Quick Mill in designing this classic Italian dual boiler machine, named after a friend of Chris'. Both the internals and the external of this machine were given careful consideration in the design to ensure only the best was added to our already solid line of home espresso machines.
Did You Know?
Quick Mill is one of the only companies that manufacturers and produces their own stainless steel. Their factory is located just a few steps away from their production facility, making their work flow that much more efficient due to location, and never having to wait for a supplier for the product!
Dual Boilers
In addition to your PID, dual stainless steel boilers make temperature control between your coffee and steam nearly perfect. No need for cooling flushes or compromising espresso quality. Steam milk while you brew your espresso for ultimate efficiency and while you entertain allow the Vetrano 2B to ask you when you're making your next drink, stop waiting for your heat exchanger or single boiler to recover.
15 Amp vs. 20 Amp
The Vetrano 2B can be run in 15 or 20 amps. During your selection process please select one of the two options, we will set your machine to whichever is your choice during the bench testing process and include the convertor cord free of charge if you select 15 amps. If you're unsure of which to select pop into our live chat in the bottom right corner of the screen for more information!
How It Looks
The Vetrano 2B boasts some of Quick Mill's most beautiful components. The deep blue dual manometer provides both a clean and exceptional look to the machine but gives you all of the information that you need about the pressure of each of your boilers. Just north of the dual manometer are the LED indicator lights next to your power switches for each boiler. The green indicator lights when the machine powers on is accompanied by two red heating indicator lights that let you know when the heating element for your brew or steam boiler has been activated. As we work our way around the machine the latest PID from Quick Mill is packed full of features and looks great with it's brushed aluminum faceplate and LED screen. Just like the manometer, the latest PID is just as functional as it is beautiful.

Joysticks
Looking to swap out the turn style knobs on the machine for the joysticks, but unsure exactly what a joystick is? Click here to take a look!
What's a PID?
The PID is a devise that allows for extreme temperature stability by accurately monitoring the water temperature and keeping it within a small range. Unlike a thermostat that simply shuts off when the set temperature is reached, causing it to continue to heat up or cool down after it's off the PID will give little pulses of energy when needed to keep the temperature within the desired range.
The group head itself is 8 lbs. of chrome plated brass which plays a vital role in keeping your water temperature stable when making it's way from the boiler to the cup ensuring only the best shot of espresso with minimal heat loss!
Energy Savings
With the addition of the new PID Quick Mill added some new energy-saving modes within its programming. The programming can be turned on or off easily just by lifting the brew lever while the machine is off. The two independently controlled eco modes:
Turn off the service (steam) boiler after 60 minutes of non-use
Turn off both boilers after 120 minutes of non-use
Technical Notes
PID display with shot timer
Stainless steel mushroom & gicleur valve
Stainless steel body shell
Stainless steel frame
Stainless steel boilers
E61 commercial group
No Burn, stainless steel steam and hot water arms
Rotary pump, placed vertically to prevent any motor issues
Easy access to the rotary, a tab on the right panel
Water reservoir with a low water sensor
Panels on the bottom base, access to the heaters and the boiler drains
Bottom fed BPA free water reservoir
Included with the Vetrano 2B Evo

2 hole steam tip
4 hole steam tip
1 single spouted portafilter with insert basket
1 double spouted portafilter with insert basket
Drain Kit
Plumb Kit
1 58mm metal tamper with wood handle
We fulfill orders Monday through Friday from our warehouse in Latham, NY. Orders may take anywhere from 1-3 business days to be fully processed and shipped out. We use USPS or UPS as our preferred carriers. Orders over $50 are eligible for FREE shipping within the contiguous U.S., and we reserve the right to select which carrier to use based on cost and speed in which the package will arrive to the final destination.
Orders over $250 will require a signature for delivery.
If however, you would like to waive this additional insurance,
please fill out the form here
and by doing so you agree to the terms and conditions contained within. Please save all packaging for any future reasons for shipping including returns, exchanges, and repairs. All exchanges & returns must be recieved within 30 days of the ship date. A return can be initiated by contacting a Chris' Coffee customer service representative
here
.
Commercial equipment & coffee are NOT eligible for returns or exchanges.
Read
Full Shipping Policies
&
Full Refund Policy Here
.
Please Note:
Chris' Coffee will not be responsible for any delivery delays due to unforeseen circumstances outside our reasonable control such as delays due to severe weather, natural disasters, strikes, etc.
For any questions or concerns please email
support@chriscoffee.com
| Dimensions | |
| --- | --- |
| Height | 16 in. |
| Width | 13 in. |
| Depth | 18 in. |
| Cup Clearance | 5.375 in. |
| Weight | 70 lbs. |
| | |
| Electrical | |
| Voltage | 110 V |
| Amperage | 15/20 A |
| Wattage | 1400 / 800 W |
| Outlet Requirements | 60 Hz / 110 V |
| | |
| Other Specifications | |
| Boiler(s) Material | Stainless Steel |
| Boiler Size | .75 / 1.4 L |
| Certifications | None |
| Reservoir Size | BPA-Free 3 L |
Download Parts Breakdown