.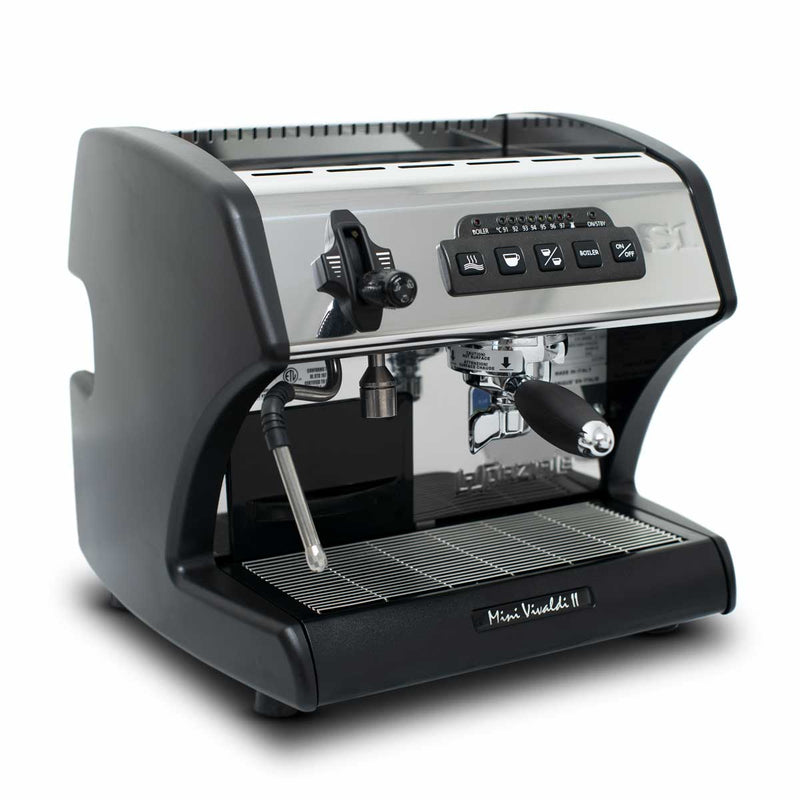 La Spaziale Mini Vivaldi II
With all the fanfare that the Vivaldi II received, we thought it would be well worth a redesign from La Spaziale so we can offer a non-plumbed version, and… voilá! Some key features of this machine are its dual boilers, extremely quiet vibratory pump, and a very minimal overall height of just 15" thanks to the removal of the flimsy cup guard rail on the previous version. Right out of the box this espresso machine is a wonderful fit for the novice or budding professional, with no shortage of expansion options in the form of a pre-infusion chamber and even custom wooden side panels for a sexy accent. Truly cannot go wrong with classic from La Spaziale.
Included in Your Order:
FREE Shipping
FREE Two-Year Warranty from Chris' Coffee ($198 Value)
FREE 20A Converter Cord ($14 Value)
Highlights

If you are short on space in your kitchen but still want to drink quality espresso at home, the S1 Mini Vivaldi II Home Espresso Machine is what you've been waiting for. After receiving many requests for a non-plumbed version, we connected with the manufacturer to design this impressive, compact La Spaziale at-home espresso machine.
You also get the peace of mind to know that all warranty work is handled by Chris' Coffee Service, Inc. Our staff of factory-trained technicians has over 100 years of combined experience servicing all makes and models of commercial espresso machines. They are not only here to service machines but are available to take your phone calls to answer any questions you may have. Though mini is in the name, the list of features for this new La Spaziale at-home espresso machine is long.
**Please Note. NOT to be used in commercial application. Your warranty will be VOID.
Wood Side Panels
Click here to view.
Key Features

The top cover has been redesigned to eliminate the Plexi cup guard. The new top is much more user-friendly; the cup guard could easily break, leaving a gap around the edges. This also lowers the overall height of the machine to just 15". The portafilters that come with the machine have also been redesigned. 
The Vivaldi II Spaziale espresso machine is our number one selling Home Espresso Machine. We felt that with the number of requests for a non-direct plumbed version we received, that it was worth going back to La Spaziale and working on a Mini (non plumbed) version. After more than a year it was finally designed and brought to life, and far surpassed our expectations. It has the same great look as the Vivaldi II and performs equally as well, yet does not need to be plumbed in.
We thought the Mini Vivaldi II La Spaziale espresso machine was perfect like it was. But then in 2008 we decided there were a couple of things we could do to improve it even more. We added Programmable + or - 8-degree Offset Differential and added an option to have a Pre Infusion Chamber installed on the group.
Optional Pre-Infusion Chamber
Now you can add a Pre Infusion chamber to your La Spaziale Mini Vivaldi II espresso machine. This pre-infusion chamber functions the same way a pre-infusion chamber on an E61 group does. There is already a pre-drilled and tapped hole in the side of your brew group where the chamber attaches. You simply unscrew the plug that is there and attach the chamber. Here is a downloadable PDF installation instruction manual. Click Here When ordered with the machine, the installation is included at NO additional charge.
Programmable Offset Differential
This allows you to set the LED temperature setting on the front of the machine to be equal to the temperature being delivered at the group rather than the temperature inside the group boiler. The original Mini Vivaldi II machines had this feature but it was only a 3-degree adjustment. Although we had not run into any problems setting the proper offset with this small range we figured since it is only a software change why not make it + or - 8 degrees, therefore, insuring there would NEVER be an issue. Note: We set it during the bench test of each machine prior to shipping so you don't have to invest in the expensive equipment necessary to perform the tests and setting.
Dual Manometer
It is no longer necessary to purchase a portafilter with a pressure gauge to either check or make adjustments to your pump's output pressure.
Decreased Delta
What does that mean? The previous model would need to detect a temperature drop of one degree Celsius before the heater would be activated. The NEW Vivaldi II activates the heater with the detection of a temperature drop of just one half degree Celsius. Simply put, it makes the temperature accuracy that much more precise in the group boiler and enhances the steam boilers' performance.
Updated temperature sensing probe The new probe is actually submerged directly into the boilers. This probe has proven to be more reliable than the previous style and has a quicker reaction time.
New LED Displays
The previous display showed 5-degree increments, from 85 to 120 degrees Celsius. The NEW Vivaldi II displays in 1-degree increments, from 91 to 97 degrees Celsius.
Differential Adjustability
Programming allows you to set the temperature at the group to correspond with the LED. We test each machine and adjust the differential before shipping.
Updates
As of March 2014, the in-tank water softener has been replaced with a softener pouch. If you wish to purchase the in-tank softener, click here.
As of August 2017, this machine can only be used in 15 amp mode but will continue to have a 20 amp plug on the machine, so a converter cord will be included with all Mini Vivaldi machines.
As of December 2021, the Mini Vivaldi now has bluetooth connectivity built into the software.
Technical Notes
Redesigned top cover
Steam tip with 4 smaller 0.9 mm holes
Dual boiler
Programmable offset differential
Swivel stainless steel steam arm
Manual fill, 2.4-liter water tank

Vibratory pump (extremely quiet)
Volumetric dosing, adjustable through the touchpad
One-degree group temperature adjustability, indicated by LED display
Group temperature adjustable through the touchpad
Electronic boiler refill
Built-in safety thermostat
Built-in safety cut out on the vibratory pump
Semi-automatic hot water delivery
Lever steam valve, same as La Spaziale S5 commercial machines
Fault diagnosis alarms
Dual manometer
15 Amp / 110 Volts
2 1/2" clearance between the drip tray and the portafilter
Improved design with space for holding your mugs
Excellent micro foam from the .9 mm four hole steam tip
Programmable timer with multiple settings (optional)
A more accurate temperature probe
Dual manometer eliminates the need for a portafilter with a pressure gauge
Ability to add a pre-infusion chamber(optional)
Programmable offset differential
Included with the Mini Vivaldi II
1 single spouted portafilter with insert basket
1 double spouted portafilter with insert basket
1 group gasket
1 back flush disk
1 plastic tamper
1 metal wire brush
1 softening pouch
We fulfill orders Monday through Friday from our warehouse in Latham, NY. Orders may take anywhere from 1-3 business days to be fully processed and shipped out. We use USPS or UPS as our preferred carriers. Orders over $50 are eligible for FREE shipping within the contiguous U.S., and we reserve the right to select which carrier to use based on cost and speed in which the package will arrive to the final destination.
Orders over $250 will require a signature for delivery.
If however, you would like to waive this additional insurance,
please fill out the form here
and by doing so you agree to the terms and conditions contained within. Please save all packaging for any future reasons for shipping including returns, exchanges, and repairs. All exchanges & returns must be recieved within 30 days of the ship date. A return can be initiated by contacting a Chris' Coffee customer service representative
here
.
Commercial equipment & coffee are NOT eligible for returns or exchanges.
Read
Full Shipping Policies
&
Full Refund Policy Here
.
Please Note:
Chris' Coffee will not be responsible for any delivery delays due to unforeseen circumstances outside our reasonable control such as delays due to severe weather, natural disasters, strikes, etc.
For any questions or concerns please email
support@chriscoffee.com
| Dimensions | |
| --- | --- |
| Height | 15.1 in. |
| Width | 16.3 in. |
| Depth | 16.3 in. |
| Cup Clearance | 5.375 in. |
| Weight | 62 lbs. |
| | |
| Electrical | |
| Voltage | 110 V |
| Amperage | 15 A |
| Wattage | 1200 / 800 W |
| Outlet Requirements | 60 Hz / 110 V (Some Exceptions Apply) |
| | |
| Other Specifications | |
| Boiler(s) Material | Copper / Brass Brew Boiler, Stainless Service Boiler |
| Boiler Size | .45 / 1.2 L |
| Certifications | ETL / NSF / UL |
| Reservoir Size | 2.4 L |
Download Parts Breakdown