.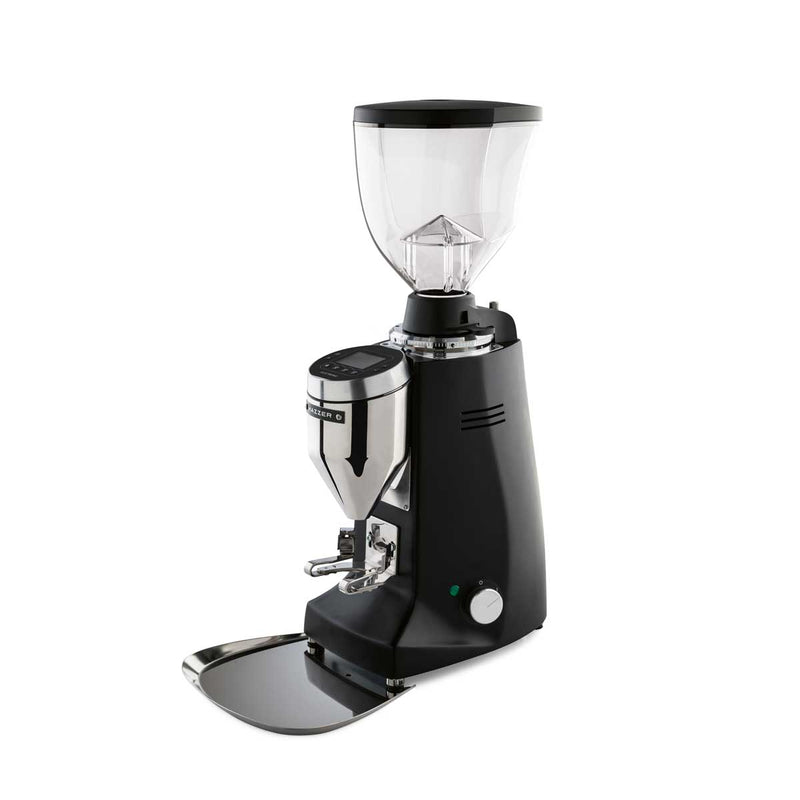 Mazzer Major V Electronic
Designed for heavy volume cafes and coffee shops, the Mazzer Major V Electronic boasts anti-clumping technology that breaks up any coffee boulders and drastically reduces retention and countertop mess. Featuring massive 83mm burrs and an extremely powerful 650 watt motor, the Major V Electronic provides lightning fast grinding to always keep the line moving in the busiest shops.
Included in Your Order:
FREE Shipping
FREE One-Year Warranty from Chris' Coffee ($99 Value)
Overview
A sharp compact design coupled with high-precision CNC machined components makes the Major V Electronic one of the best powerhouse espresso grinders on the market. Double fan cooling system, low retention, and an easy-to-set memory track system make this one of the easiest to use Mazzer grinder to date. It's one of the best of the Mazzer grinders.
83mm Flat Steel Burrs with Low Retention
The latest model of the Mazzer Major V Electronic is truly revolutionary! Mazzer has outdone themselves with this model. With large 83mm flat burrs designed and produced in-house the Mazzer Major V is perfect for the busy cafe or the power home user.
Grind Flow Control (GFC)
Mazzer's Grind Flow Control (GFC) system forges Mazzer well into the future and far exceeds its competitors' technology, especially at this price point. To get GFC style features you'd have to purchase the Mythos II from Victoria Arduino, more than double the price of the Mazzer Major V Electronic.
The GFC System consists of a removable aluminum outlet insert with three interchangeable wire dampers. The Grind Flow Control System (GFC) assists in superior clump reduction, particle size distribution, and reduces mess on your counter by reducing the electrostatic charge. The Grind Flow Control (GFC) system can be accessed under the high-tech electronics, located under the finger guard in the dosing cup, same as other modes of Mazzer grinders.
High-Tech Electronics
The electronic control panel on the Mazzer Major V electronics is one of the easiest systems to use on the market. A 19-language wide viewing angle control panel exhibits all of your grinding stats, service alerts, and dosing information.
Grinding Statistics
Total Dose Counter

Partial Dose Counter

Daily Grinding Statistics
Service Alerts
Firmware Upgrades

Burr Changes
Dosing Information
Ability to set a maximum dose cap

Programmable single, double, and triple dose buttons. Timed dosing programmable in steps of a hundredth of a second.
Easy to Dial-In & Clean
The biggest annoyance with every grinder whether you're in a commercial or home environment is dialing in your grinder. The second is making sure you keep it working in tip-top shape which cleaning is a major factor in improving the longevity of your espresso grinder.
With the Mazzer Major V Electronic, it's incredibly easy to dial-in. The smooth and micrometrical stepless collar adjustment has a nearly infinite number of grind settings. To help maintain the grind setting's zero-point thereby reducing the amount of waste, the grind number on the collar adjustment moves, the same as other Mazzer grinders. As seen in the figure below - two Phillips head screws give you a zero point to adjust to either when you add a new hopper full of beans or as your grinder works in your cafe give you a point of reference to return to.
Maintaining your perfect grind is incredibly important in both commercial and residential environments. When cleaning your grinder you will not lose your grind. The lower burr is what moves, to allow the upper burr to be lifted with ease by a couple of Allen screws for full exposure of the grinding wheels for easy cleaning. This is incredibly similar to the Ceado coffee grinders.
When you're adjusting your grinder finer you must always have it running so you do not jam the burrs!
Hands-Free Portafilter Activated
The Mazzer Major V's portafilter fork is one of the most adjustable forks on the market. The ability to adjust in three-ways allows even the most unique portafilters to fit with ease. Hands-free grinding saves time, and this portafilter fork allows the coffee to be dispensed directly into the center of most any portafilter!
The Mazzer Major V Electronic's hand-free portafilter activated grinding is truly amazing how clean it is. Nearly hitting the center of your insert basket every time with a couple of brief adjustments! Overall, it's one of the best coffee grinders on the market.

We fulfill orders Monday through Friday from our warehouse in Latham, NY. Orders may take anywhere from 1-3 business days to be fully processed and shipped out. We use USPS or UPS as our preferred carriers. Orders over $50 are eligible for FREE shipping within the contiguous U.S., and we reserve the right to select which carrier to use based on cost and speed in which the package will arrive to the final destination.
Orders over $250 will require a signature for delivery.
If however, you would like to waive this additional insurance,
please fill out the form here
and by doing so you agree to the terms and conditions contained within. Please save all packaging for any future reasons for shipping including returns, exchanges, and repairs. All exchanges & returns must be recieved within 30 days of the ship date. A return can be initiated by contacting a Chris' Coffee customer service representative
here
.
Commercial equipment & coffee are NOT eligible for returns or exchanges.
Read
Full Shipping Policies
&
Full Refund Policy Here
.
Please Note:
Chris' Coffee will not be responsible for any delivery delays due to unforeseen circumstances outside our reasonable control such as delays due to severe weather, natural disasters, strikes, etc.
For any questions or concerns please email
support@chriscoffee.com
| Dimensions | |
| --- | --- |
| Height | 26.75 in. |
| Width | 10 in. |
| Depth | 11.5 in. |
| Hopper Capacity | 1600 g |
| Weight | 45.20 lbs. |
| | |
| Grinding | |
| Burr Size | 83 mm |
| Burr Material | Steel |
| Flat or Conical | Flat |
| Grind Adjustment Type | Stepless Micrometrical |
| Average Output | NA |
| Dose Setting(s) | Single, Double, Triple |
| | |
| Other Specifications | |
| Motor Speed | 1600 RPM |
| Power | 650 W |
| Outlet Rating | 60Hz / 110V (Some Exceptions Apply) |
| Equipped with Fan | Yes |
| Start | NA |
Download Parts Breakdown