.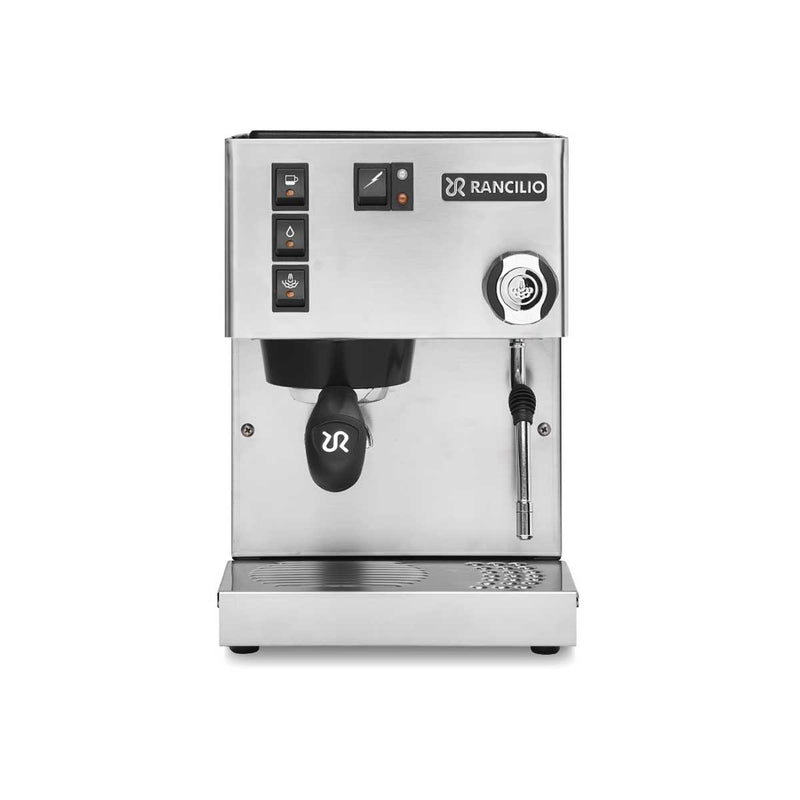 Rancilio Silvia M
Despite its consumer friendly price point, the Silvia M still packs a punch in terms of professional features and reliability. Additionally, "Miss Silvia" measures in at only 13" tall and will be sure to fit under any cabinet space, great for smaller apartment or condo living. One standout feature of this espresso machine is its fast recovery from pulling a shot of espresso, allowing you to quickly move on to steaming your milk. Truly a wonderful balance between price and functionality.
Included in Your Order:
FREE Shipping
FREE Two-Year Warranty from Chris' Coffee ($198 Value)
Highlights
Originally produced as a gift to high-performance sales representatives at Rancilio, the Silvia M has become a fan favorite for the home espresso enthusiast. The attractive price point and it's impressive reliability is the reason why you'll never hear a bad Rancilio Silvia espresso machine review!
While there is a learning curve with the Silvia espresso machine, as well as any single boiler espresso machines, once you nail it you'll be hooked! With 10-years of superior performance 'Miss Silvia' as she's affectionately known will become a fixture on your counter for many years to come.
When looking through Rancilio Silvia Reviews you'll find that many appreciate it's classic linear design that fits most decors. It's also incredibly well-suited for small spaces. Measuring in at only 9.5"x11" at its base, 13 inches in height, it's footprint is much smaller than most.
Energy Efficient
The Rancilio Silvia has a single boiler that is used for both steam as well as brewing. With any single boiler you cannot brew and steam at the same time like other espresso machines. Espresso machines that are heat exchangers or dual boilers are much more expensive than the Rancilio Silvia, but can steam and brew at the same time.
There is a 0.3 liter (12-ounce) lead-free NSF certified brass boiler that is marine grade and insulated for maximum heat retention as well as energy efficiency. The insulation of the boiler contributes to an 8% reduction in energy consumption when in standby mode. With it's larger than normal single boiler the Silvia boiler produces superior steam power and impressive recovery times far better than many machines within it's class. In other words, making steamed milk is even quicker on the Silvia! No more waiting for milk frothing.
In addition to the boiler's efficiency, the group itself is made of high-quality materials as well. The forged marine brass group is at the heart of the best quality espresso the Silvia can produce! It's lasting quality over many years is also a major plus.
Commercial Quality
Every aspect of the Rancilio Silvia M has been painstakingly looked after. While being a home espresso machine, Rancilio didn't skimp. From the marine grade lead-free brass components down to the switches, an effort to make Miss Silvia a lifetime machine was considered.
What Do the Switches Do?
With the same switches as their commercial units like the S20 series, there are four rocker switches. The main power switch is located at the center of the machine separate from the other switches. There are two indicator lights to the right of the power switch that indicate that the machine has power, but also if the heating element is activated. When the machine is turned on the heating element is activated. When the separate orange ready light is turned on your Rancilio Silvia is heating up. Once off - your machine is at temperature and ready to brew.
The top left switch is known as the brew switch. It is identified with the coffee cup logo on the rocker switch. When turned on, it activates the pump. To stop the brewing process simply return the switch to the off position. This kind of manual on and off is referred to as a semi automatic.
The middle switch is your hot water switch. When turned on the Silvia will dispense hot water from the boiler through the steam wand.
The bottom switch is for steaming. The stainless steel steam wand is incredibly easy to use. It's fully articulating arm making it much easier to use. When the switch is turned on the boiler heats to steam temperature and you open the steam valve by turning the steam knob located right above the wand itself.
Technical Notes
Adjustable expansion valve
Three-way solenoid valve that relieves water pressure off ground coffee within the portafilter when the brew switch is turned off. This helps prevents drips after brewing that can make knocking the coffee out of your portafilter difficult if overly wet.
Brass construction resists pitting and scale build-up
Iron Frame wrapped in brushed stainless steel
What's included with the Silvia M?
1 58mm ergonomic chrome plated brass portafilter with insert basket
1 double 14g insert basket
1 plastic 7g measuring scoop
1 rubber back flush disk
1 58mm wooden tamper
1 hole steam tip
Interested in a bottomless portafilter for your Rancilio Silvia? Click here!
We fulfill orders Monday through Friday from our warehouse in Latham, NY. Orders may take anywhere from 1-3 business days to be fully processed and shipped out. We use USPS or UPS as our preferred carriers. Orders over $50 are eligible for FREE shipping within the contiguous U.S., and we reserve the right to select which carrier to use based on cost and speed in which the package will arrive to the final destination.
Orders over $250 will require a signature for delivery.
If however, you would like to waive this additional insurance,
please fill out the form here
and by doing so you agree to the terms and conditions contained within. Please save all packaging for any future reasons for shipping including returns, exchanges, and repairs. All exchanges & returns must be recieved within 30 days of the ship date. A return can be initiated by contacting a Chris' Coffee customer service representative
here
.
Commercial equipment & coffee are NOT eligible for returns or exchanges.
Read
Full Shipping Policies
&
Full Refund Policy Here
.
Please Note:
Chris' Coffee will not be responsible for any delivery delays due to unforeseen circumstances outside our reasonable control such as delays due to severe weather, natural disasters, strikes, etc.
For any questions or concerns please email
support@chriscoffee.com
| Dimensions | |
| --- | --- |
| Height | 13.4 in. |
| Width | 9.2 in. |
| Depth | 11.4 in. |
| Cup Clearance | 3 in. |
| Weight | 31 lbs. |
| | |
| Electrical | |
| Voltage | 120 V |
| Amperage | 15 A |
| Wattage | 800 W |
| Outlet Requirements | 60 Hz / 110 V (Some Exceptions Apply) |
| | |
| Other Specifications | |
| Boiler(s) Material | Brass |
| Boiler Size | .3 L |
| Certifications | None |
| Reservoir Size | 2 L |
Download Parts Breakdown