.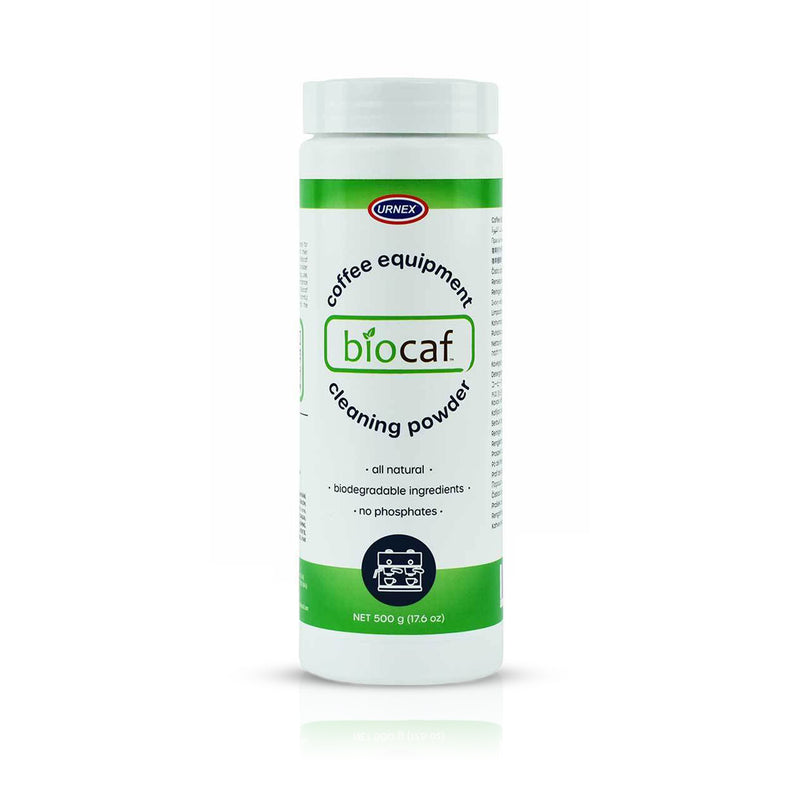 Overview
Eliminates coffee residue and oils from espresso machine group heads, valves and lines.
Keeps screens and filters clear for even extraction.
Removes coffee stains from batch brewer filter baskets and servers.
Can also be used to make a soaking solution to clean other equipment, parts and accessories.
Made from all-natural, biodegradable ingredients. Contains no phosphates. Odorless.
500 g jar (18.5 oz).


How to Backflush
Insert blind filter in portafilter and add up to 1/2 teaspoon (3 g) of Cafiza Powder.
Insert portafilter into group head. Activate brew cycle for 10 seconds. Stop 10 seconds. Repeat 5 times.
Remove portafilter and activate brew cycle and rinse portafilter in stream of water from group head.
Re-insert portafilter without cleaning powder. Activate brew cycle for 10 seconds. Stop 10 seconds. Repeat 5 times.
Replace blind filter with standard basket. Make a cup of espresso to remove any traces of cleaner.
Discard espresso - do not drink.
 Note: If shipping internationally customs might flag this item as a vitamin/drug. We will not be held responsible if they do not allow it to enter in your country.
Note: Packaging may appear different on some bottles based on what vendor sends us.
We fulfill orders Monday through Friday from our warehouse in Latham, NY. Orders may take anywhere from 1-3 business days to be fully processed and shipped out. We use USPS or UPS as our preferred carriers. Orders over $50 are eligible for FREE shipping within the contiguous U.S., and we reserve the right to select which carrier to use based on cost and speed in which the package will arrive to the final destination.
Orders over $250 will require a signature for delivery.
If however, you would like to waive this additional insurance,
please fill out the form here
and by doing so you agree to the terms and conditions contained within. Please save all packaging for any future reasons for shipping including returns, exchanges, and repairs. All exchanges & returns must be recieved within 30 days of the ship date. A return can be initiated by contacting a Chris' Coffee customer service representative
here
.
Commercial equipment & coffee are NOT eligible for returns or exchanges.
Read
Full Shipping Policies
&
Full Refund Policy Here
.
Please Note:
Chris' Coffee will not be responsible for any delivery delays due to unforeseen circumstances outside our reasonable control such as delays due to severe weather, natural disasters, strikes, etc.
For any questions or concerns please email
support@chriscoffee.com